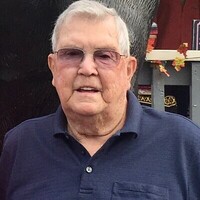 Eddie Reece, 84 of Mechanicsville, MD passed away at his home on February 14, 2021.

He was born on June 12, 1936 in Coeburn, VA to the late Arthur and Nellie Mae Woodring Reece.

On September 14, 1958, Eddie married his beloved wife, Rosalee Marie "Rosie" Wise in Lexington Park, MD. Together they celebrated over 52 wonderful years of marriage before her passing in October 2010. Eddie was a member of the Calvary Gospel Church in Waldorf, MD.

Eddie was a gold member of Plasterers and Cement Masons Local 891 for 65 years. He started his own concrete finishing company in the early 80's. Eddie retired in 2006.

Many who knew Eddie, describe him as having "the biggest heart". With that heart, he loved his family. His kindness and compassion for others was showed every day.

Eddie loved the simple things in his life, playing cards with his family and going to the Casino. He was a die-hard fan of the Washington Redskins, Washington Nationals and Nascar. Joe Gibbs racing team being his favorite. If he was not watching sports, he was watching old western movies.

Before his wife Rosie health declined, the two of them loved to take long and weekend trips. He enjoyed the many trips to the beach with his children, brothers and their families. It was a family affair! He took many trips to his hometown, Coeburn, VA, to visit family. He loved to take his family and show where he grew up, coal mining places and the mountains.

Eddie will truly be missed.

Eddie is survived by his children: Teresa Orencia of Mechanicsville, MD, Janet Clements (Tony) of Hollywood, MD, Ralph "Buddy" Reece of Mechanicsville, MD and Timothy Reece (Elizabeth) of Mechanicsville, MD; his siblings: Douglas Reese (Bobbie) of Bryans Road, MD, Alma Hackle (Norm) Montrose, VA, Frank Reece (Sherry) of Coeburn, VA, and Thelma Mayewski (Gary) of Churchville, NY; his grandchildren: Jamie Thompson (Melissa), Jeffrey Thompson (Elsie), Katelyn Reece, Ashlyn Reece, and TJ Reece; his great grandchildren: Shane Orencia, Jenna Thompson, Ethan Thompson, Ileigh Thompson, and Leon Martin; and many extended family and friends. In addition to his parents, he is also preceded in death by his son, Eddie Gene Reece; his grandson, Kevin Orencia; and his siblings: Billie Wallace, Joseph Reece, Ralph Reece, Arthur Reece, Robert Reece, and Rex Reece.

Family will receive friends on Friday, February 26, 2021 from 10:00 to 11:00 a.m., with a Funeral Service held at 11:00 a.m., at Brinsfield Funeral Home, 22955 Hollywood Road, Leonardtown, MD 20650. Interment will follow at Trinity Memorial Gardens in Waldorf, MD. The service will be livestreamed and may be found at Boxcast-Eddie Reece Service.

Servings as pallbearers will be Jamie Thompson, Jeffrey Thompson, George Alling, Billie Bookwalter, Georgie Rentizell and Mark Burch.

Memorial contributions may be made to Hollywood Volunteer Rescue Squad, P.O. Box 79, Hollywood, MD 20636 and Mechanicville Volunteer Rescue Squad, P.O. Box 15, Mechanicsville, MD 20659.

Condolences to the family may be made at www.brinsfieldfuneral.com.

Arrangements by the Brinsfield Funeral Home, P.A.