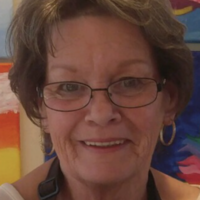 Theresa Louise Corboo, 69, of Mechanicsville, MD passed away peacefully on Tuesday, February 16, 2021 at MedStar St. Mary's Hospital, Leonardtown, MD. Born on March 21, 1951 in LaPlata, MD; she was the loving daughter of the late Earl Rudolph Alvey and Elsie May (Jordan) Alvey.

Theresa married the love of her life, John J. Corboo, Jr. on October 25, 1969 before John entered the Navy. Together they have spent the last 52 years proving that love endures all. Their love story was blessed when they welcomed two (2) beautiful daughters, Renee and Missy.

A classy, graceful and kind woman, Theresa made friends everywhere she went. A social butterfly in every scenario; she never wanted anyone to feel like a stranger. She retired as the Assistant Treasurer of Citizen's Bank, and during that time she offered excellent customer service which gave way to long lasting friendships and became a well-respected associate to all she served and worked with during her career.

She was an artist at heart in many ways; that could paint you a picture or craft a project to inspire you to attempt your own. She spent many hours with her grandchildren crafting, woodworking, fishing, crabbing, sewing, and gardening. She used every opportunity she could to teach and inspire others to be the best form of themselves possible. She found quilting to be a peaceful, artistic outlet and has blessed many with her quilts. She could spend hours meticulously piecing and stitching her designs. She worked with her daughter Missy quilting for special charities, children and many family members who will forever cherish each and every stitch. If you were blessed with a quilt from Theresa, you know her whole heart went into the creation, design and execution of her work. Her work will be cherished for generations, keeping them wrapped in warmth as if she were hugging them close. She enjoyed seeing customers and working with Renee and Missy as a former member of Cecil's Old Mill.

Theresa cherished her family above all. She was a dedicated wife, mother, grandmother, great-grandmother and sister. The lessons she shared with them to be humble, kind, forgiving and compassionate have made them all better people. With her wisdom and guidance, they will continue to pass these lessons down the generational line. A great woman has left us, but her legacy will never leave. As you see the vibrant colors of sunset, know Theresa is the artist painting you a sky filled with love.

Theresa is survived by her husband John Joseph Corboo, Jr. of Mechanicsville, MD; her daughters, Theresa R. Gardiner (Michael) of Avenue, MD and Mellissa M. Hughes (David) of Hollywood, MD; six (6) grandchildren, Michael H. Gardiner, Jr. (Lauren), John J. Gardiner (Megan), Jordan Corboo (Nora), Katie Gardiner (Jack), Shelby Gardiner and Cory Corboo; five (5) great-grandchildren, Connor, Ana, Emilia, Jack Jack and Paisley; and her siblings, Margaret Wallace, Philip Alvey and Wanda Jirousek. She is predeceased by her parents.

Theresa's family will receive friends for her Life Celebration Visitation on Monday, February 22, 2021 from 5:00 p.m. until 7:00 p.m. at Brinsfield Funeral Home & Crematory, P.A, 30195 Three Notch Road, Charlotte Hall, MD 20622. Interment will be private.

In lieu of flowers, the family is requesting that donations be made to: Alzheimer's Association; Greater Maryland Chapter, 225 N. Michigan Ave. Floor 17 Chicago, IL 60601 or Hospice of St. Mary's, Post Office Box 625, Leonardtown, MD 20650.


Condolences may be made to the family at www.brinsfieldfuneral.com

Arrangements by the Brinsfield Funeral Home & Crematory, P.A., Charlotte Hall.