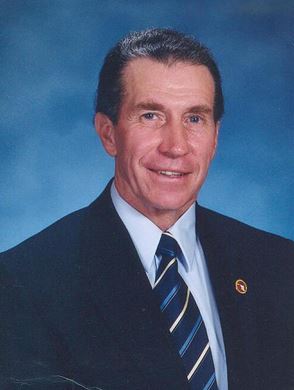 William Griffith Wise of LaPlata, Maryland and formerly of Marbury, Maryland passed away on February 13, 2021 of Lewy Body Dementia at Mount Vernon Rehabilitation Center in Alexandria, Virginia. He was born May 1, 1942 in Marbury, Maryland to Cecil and Mary Darnell Wise. He was preceded in death by father Cecil, mother Mary Darnell and sister Margaret Ann Cooksey. He is survived by his wife of 52 years, Roberta, his daughter Jennifer (Wise) Siciliano and his granddaughters Maggie and Ryleigh.

A lifelong learner, Bill was a graduate of the Charles County Community College, Towson State University, Bowie State University and the University of Maryland where he received his Doctor of Education degree.

He dedicated 44 years of his life to the Charles County Public School system. His career began as a teacher and he later served as a Vice Principal and lastly, as a Principal touching the lives of countless young men and women on their educational journey. He took great pride in the fact that he opened Piccowaxen Middle School as well as Mattawoman Middle School. The dedication and support he exhibited to all his students and their lives was evident by his attendance at the many in county and out of county events in which his students participated, always in a suit and tie.

Bill was very active in educational organizations serving as President of the Education Association of Charles County and the Maryland Association of Secondary School Principals. He loved attending the national conferences and never missed a seminar they offered.

In 1997, he was recognized by The Washington Post as a Principal of Excellence. In 2000, he was named the MetLife/National Association of Secondary School Principals State Principal of the Year.

When he wasn't focused on the school system, his favorite pastime was his beloved Piper Cherokee airplane that he kept at Maryland Airport. One of his greatest joys was taking folks for a ride, especially those who had never flown before. He loved spending time with his friends and fellow pilots at the airport. He especially enjoyed the day he was able to take his granddaughters for their very first plane ride with "Pappy" around the area.

When he retired, he spent several years on the Charles County Library Board, spending time in Ocean City, Maryland and continuing his yearly quest of a productive garden.

A Memorial Visitation will take place on Saturday, March 13, 2021 from 11:00am to 1:00pm at Arehart-Echols Funeral Home, 211 St. Marys Avenue, LaPlata, Maryland. In keeping with the current state mandates regarding COVID-19, face coverings must be worn over mouth and nose by all visitors before entering the funeral home and visitors are asked to respectfully observe social distancing. Visitors are asked to greet the family and then exit the funeral home so that others may also visit due to the limited, allowable capacity.

In lieu of flowers, memorial contributions may be made in Bill's name to the Humane Society of Charles County, 71 Industrial Park Drive, Waldorf, Maryland 20602 or a community organization of your choice.