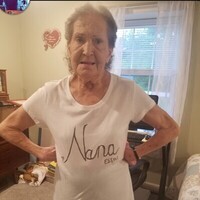 Mary Evelyn Cave, 75, of Mechanicsville, MD passed away suddenly on Thursday, February 4, 2021 at MedStar St. Mary's Hospital in Leonardtown, MD. She was born on December 2, 1945 in Bowie, MD to the late George Lee Clark and Evelyn Rose (Curtin) Clark.

After graduating high school, Mary met and married the love of her life, Paul Clayton Cave. They spent over thirty-six years living in Prince George's County before moving to the Mechanicsville area. They were married for over fifty years and shared a beautiful family before his untimely passing in January, 2012. Mary missed her beloved husband greatly and her children feel blessed to know their parents have been reunited in heaven.

A woman with a heart of gold, Mary was a bus driver for the Prince George's County Public School system. She loved driving her bus, and watching the children grow each year. She treated them as her own and felt great pride in making sure she delivered them to and from school safely.

Mary loved her family more than anything in the world. A wonderful cook who loved to take care of her children, grandchildren and great grandchildren. She was an avid gardener and bird watcher. A devout Catholic she attended Saturday evening Mass weekly. She will be missed by many but none as much as her family.

May your memories of Mary outweigh the heartache of her passing. As you think of her smile, and infectious laugh remember she is never far away, the rustling of the wind through the trees is her whispers from heaven above.

Mary is survived by children, Michael Cave (Kerry) of Mechanicsville, MD, Lynnette Eanes (David) of Lothian, MD; six (6) grandchildren and five (5) great-grandchildren; brothers-in-law; sisters-in-law; nieces; nephews and extended family. She was preceded in death by her parents, beloved husband, Paul Cave; and siblings, Raymond, George, Edward, Leslie and Thelma.

Family will receive friends for her Life Celebration Visitation on Saturday, February 13, 2021 from 5:00 pm – 7:00 pm with a Prayer Service being held at 7:00 pm at Brinsfield Funeral Home & Crematory, P.A., 30195 Three Notch Road, Charlotte Hall, MD 20622 and officiated by Deacon Bill Kyte of Immaculate Conception Catholic Church. Interment will be held at a later date in Maryland Veterans Cemetery, Cheltenham, MD where she will be laid to rest beside her wonderful husband.

Condolences to the family may be made at www.brinsfieldfuneral.com.

Arrangements by the Brinsfield Funeral Home & Crematory, P.A.