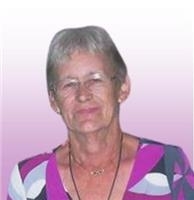 "I had a great life. Had eight great children, a great husband... I don't think anyone could have had a better life." ---Joan Winslow

The incredible life of Joan Gallehr Winslow concluded on January 26, 2021. Although her roots were in New York, she created a full life and home in Mechanicsville, Maryland. She effortlessly juggled many roles throughout her life, including wife, mother, grandmother, great-grandmother, writer, journalist, artist, performer, musician, and teacher.

She lived an unconventional life. After being told she had to marry a Catholic and couldn't have children, she married a wonderful Methodist man and had 8 healthy children. She made her home filled with love and painted it top to bottom in snowmen, butterflies, and penguins, even adding a yellow brick road in the yard. Everyone knew the door was always open to anyone who needed a place to stay, an ear to listen, or just a hug.

She made a name for herself and her family throughout Southern Maryland. There were a variety of music shows she performed at, including the Port Tobacco Theater, the Mechanicsville Fire Department, jousting tournaments, and various high schools. She wrote articles for the Tide, Beacon, and Enterprise. At Mother Catherine Spaulding School, she taught music, art, and shared a religious library. Most notably, she would tour around with her husband and children as the Winslow Family Band.

She also lived a life abounding in faith. She went to church every Saturday and Sunday, and for decades she played the organ for mass. Our Lady of the Wayside, St. Joseph's in Morganza, and St. John's in Hollywood were three of her favorite churches.

It is most fitting that this angel's last words were the Lord's Prayer "Our Father..."

Her life was filled with the love of a husband of 63 years, George Winslow; 8 children, Ginger Hammer, Patricia Moreland, Bill Winslow, Phillip Winslow, Kathy Winslow, Anita "Peanut" Winslow, Robert Winslow, and David Winslow; 3 siblings, Richard Gallehr, Barbara Slank, and Donald Gallehr; 10 grandchildren, 7 great-grandchildren, many extended and in-law family member, and countless people she welcomed into the family.

The family will be having a private service.