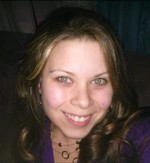 Crystal Lea Meridith,33, of Waldorf, MD formerly from Mechanicsville, MD passed away on January 25, 2021 in Waldorf, MD. She was born on November 11, 1987 in Leonardtown, MD, and was the loving daughter of the late Anita Marie Battenfield Meridith Nelson and James Edward Meridith. She is survived by her boyfriend Lamont Washington Hicks of Waldorf, MD. She is survived by her daughter Sarah Meridith Hicks, of Waldorf, MD, and her sister Rachele Marie Meridith of Mechanicsville, MD. She was preceded in death by her brother James Edward Meridith, Jr.

Crystal graduated from Chopticon High School in 2005, and was a waitress at Lefty's Bar-B-Que.

Crystal had a love of music inherited from a daddy who played bass guitar and a big brother who played drums. From an early age, she was a girly girl and most of our fondest early memories involve her as a young girl dressed in one of her ruffly dresses with her matching socks twirling around with a big smile on her face. Crystal had a deep love of family and family traditions. She absolutely loved Christmas and all the Christmas celebrations from decorating the house to making her famously decorated gingerbread men cookies. The family took many trips to Disney World and Daytona Beach which she loved. She also had a love for animals, especially puppies which she inherited from her mom. She spoiled many litters of puppies that her mom raised. Her greatest accomplishment came on November 21, 2015 when together with her boyfriend, Lamont Hicks, they welcomed a baby girl, Sarah Meridith Hicks. She enjoyed taking Sarah to the beach, the playground and celebrating annual family traditions like the Easter Egg Hunt. She shared a special relationship with Lamont's mother, Sandy; a bond which grew even stronger following the loss of her own mother. Sandy was always there to lend a helping hand and to offer her love and support to both Crystal and Sarah. Crystal was small as a mouse but could be fierce as a lion; she was sassy, hardworking and most of all cared about others. She was always there to listen for anyone who needed a listening ear. We will miss her personality, her winning smile and her infectious, distinctive laugh. She will forever remain in our hearts.

The family will receive friends on Monday, February 1, 2021 from 10:00 AM to 11:00 AM in the Mattingley-Gardiner Funeral Home Leonardtown, MD. Where a Funeral Service will follow at 11:00 AM with Father Ray Schmidt officiating in the Funeral Home Chapel. Interment will be private.

Contributions at Gofundme.com to assist with funeral expenses and for Crystal's daughter, Sarah, would be greatly appreciated.