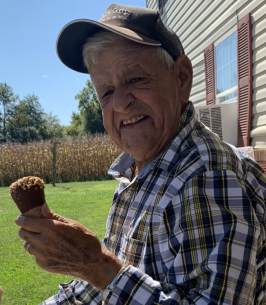 Charles Bernard "Banjo, Manzie" Nelson passed into eternity on January 23, 2021 at the age 78. He is survived by daughters: Betty-Jo Anderson (Chris), Karen Nelson-Gass, Susan Nelson (Jamie), Shannon Havrilla (Michael), Heather Heling and grandchildren: Jonathan, Katelyn, Alex (Chicken Nugget), Caleb (Kooka), Sarah and Cassie (Bootsie); and great-grandchildren: Sasha, Daliah, Oliver and "little nugget" due in May.

Banjo was the fourth of 15 children born in Chaptico, MD to the late James Andrew "Toots" Nelson and Beatrice Tennyson Nelson. He was preceded into death by his brothers James Maguire "Mop Jack" (Dorothy, decd.) and Francis Leroy "Bubba" (Lori), surviving siblings: Joseph "Freddie" (Mary), John Ira "Dink", Mary Janet "Jody" Nelson Gray (Elmer, decd.), Thomas Allen "Sam" (Carolyn), Sylvia Nelson Gainey (Bill), Brenda Nelson Caywood (Charles, decd.), Kenneth "Ken" (Betty Lou), Robert "Wayne" (Gloria), Wallace "Wally" (Ellen), Rita Nelson Buckler (Robert), Rose Nelson Roth and Tina Nelson Bowles (Tommy).

Banjo lived an extraordinary life. He worked hard, harder than most. He resided in St. Mary's County as a tobacco farmer his entire life. Anyone who crossed paths with him would be no stranger. It is almost impossible to forget his presence. He enjoyed tractor pulls as well as his card nights on Tuesdays. Where they would play and eat oysters. One of his favorite hobbies was to ride the gator around the farm, of course with his dogs, and travel to nearby neighbors (and once in a while to Anderson's Bar). In the summer he indulged in his garden while giving his bounty to others. He would sit on his porch and yell at his neighbors waiting impatiently for them to yell back. If you have seen him dance, you know he has a 'style' like no other. Banjo had a variety of words he used to express the situations at hand. If he was thinking it, he was saying it! His devotion for his family, farm and friends will live on forever.

His dash will never be forgotten, though deeply missed. Life is not about the number of breathes you take but about the moments that take our breath away. Banjo had some breath taking moments that we shall carry and treasure during our lifetime and beyond. He truly believed you did not need money to have a good life, all one needs is health and family. He faithfully attended Our Lady of the Wayside Parish in Chaptico. He enjoyed the view from the back pew! Banjo had a true spiritual heart. He prayed for his children and grandchildren daily. We can confidently say Banjo lived his dash to the fullest.

"And we are confident of this, to be absent from the body is to be present with the Lord." 2 Corinthians 5:8.

The family will receive friends on Friday, January 29, 2021 from 9:00 AM to 11:00 AM in the Mattingley-Gardiner Funeral Home Leonardtown, MD. All Funeral Services will be private. Honorable Pall Bearers: Frances "Patrick" Lyon – though not a related son, closer than one could ever be. He loved you wholeheartedly. Jamie Nelson – the one that he relived his youth continuously through. How he loved your shenanigans. Robert Carter – a brother from another mother. One he loved dearly.
Robert "Bobby" Guy – a dear friend who he will 'haunt' until he sees you again.

For those who desire to donate, donations can be made to ACTS, 21808 Colton Point Rd., Avenue, MD 20609.