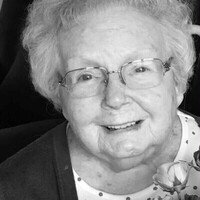 Ethel Virginia Lewis (Boynton) known as Ginny, 89, of Great Mills, MD passed peacefully on January 30, 2021 at her home. She was born in Bridgeport, Connecticut to the late Theodore Boynton and Alice Boynton on August 20, 1931. Her family consisted of four sisters, Elanor Sullivan, Dorthy Frank, Lillian Juliano, Barbara Gale and one brother, Theodore Boynton of Milford.

Ginny moved to Milford Connecticut when she was thirteen (13). She met the love of her life, James W. Lewis Sr. when she was a young girl of fourteen (14). They were married at twenty (20) and stayed in Milford to raise five children. They owned and operated New England Electric Construction Company in Bridgeport, CT until James took ill in 1984 and later passed away in 1986. In 2010, Ginny moved to Maryland where she resided with her daughter Cynthia and son-in-law, Harold and enjoyed being closer with her daughter, Cathy and son-in-law, Will and her grandchildren.

Ginny would often tell her family about the adventures of buying old homes and rehabbing them. She loved flipping houses with her husband, they once restored a 200-year-old home with help from a few contractors. The later became part of the historical society, as they were about to maintain most of the original form.

A talented artist, Ginny enjoyed making ceramics, knitting and sewing. She made beautiful ceramics for her family that they will cherish for many generations. She loved to make costumes for her grandchildren and they still remember speaking about Nana's "costumes".

Ginny was both adored and loved by her five (5) children, James W. Lewis, Jr. (Suzanne), Linda K. Gaglione, Cynthia J. George (Harold), Jeffrey D. Lewis and Catherine M. Parillo (William). She is also survived by her twelve (12) grandchildren, James Lewis III, Patrick Lewis, Cynthia Stewart, David Elmo, Harold George III, Rosemary George, Elizabeth Custer, Danielle Tompkins, Jeffrey Lewis Jr., Alexa Gauldin, Lacie Winkle and William Parillo; and nineteen (19) great-grandchildren and several nephews and nieces. She had a wonderful relationship with all of her family and was loved by everyone who met her. Our Mother, Grandmother and Great Grandmother will be missed terribly by all of us. We love you more Mom!

Services will be held at a later date in Milford, CT.

In lieu of flowers, the family would request donations be made to Hospice of St. Mary's, PO Box 625, Leonardtown, MD 20650.

Condolences may be made at www.brinsfieldfuneral.com

All arrangements have been made at Brinsfield Funeral Home, Leonardtown, Maryland.