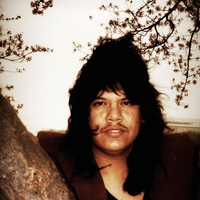 Luis Quispehuaman a friend, brother, uncle, husband and father. A man who was well known and loved by many, passed away unexpectedly January 28th, 2021 at the age of 55. Luis spent his last years living in Hollywood, Maryland surrounded by his family.

Luis was born February 10th 1965 in Washington, D.C. to Brigida and Daniel Quispehuaman. Luis was blessed with his brother and life best friend, Danny Quispehuaman. Luis and Danny were inseparable and only grew closer as they grew older. Luis was also fortunate enough to have James Boggs or "Pop Pop Jimmy" as his step father who was a strong influence in his life. He grew up in Fort Washington, Maryland where he spent most of his child hood and teenage years.

He met the love of his life Tina Quispehuaman when he was 26 and married her on November 18th, 1995. Luis and Tina shared six beautiful children; Brianna Stone, Rachel Knowles, Adrian Quispehuaman, Isaiah Quispehuaman, Mateo Quispehuaman, and Nico Quispehuaman. Luis treated his two son-in-law's, Justin Stone and Skylar Knowles as his own. Luis adored his two granddaughters, Emelynn Stone and Margot Knowles who he referred to as "Gampy's girls".

Luis worked with various companies as a heavy equipment manager and took on as many side jobs as he needed to provide for his family. Luis was commonly known as Chief to many, working as a bouncer for Big Dogs and Hotel Charles in previous years.

Luis enjoyed a drink while cooking for his family and loved to grill out on a beautiful day.

He loved fishing and wished he was able to fish more often. He was a lover of all music, his favorite artists were Queen, Blue Oyster Cult, Bruce Springsteen, Judas Priest, Kiss, Billy Idol, Brooks & Dunn. A list too long to continue.

Luis was a people person and loved helping others in any way he could, whether it was an old friend or stranger Luis was always someone you could count on. He loved taking interests in others and was always someone who could make you laugh in the hardest of times. Even when money was tight, he always made it a point to help others in need by paying for groceries in line or giving a meal to someone in need.

We will be honoring Luis with a Celebration of Life ceremony at Encounter Christian Center in Charlotte Hall, MD on Saturday February 6th from 4pm to 6pm, prayers/service will begin at 5pm. Please join us in remembering Luis and being with his family during this difficult time.

Condolences to the family may be made at www.brinsfieldfuneral.com

All arrangements have been made at Brinsfield Funeral Home & Crematory, P.A., Charlotte Hall, MD.