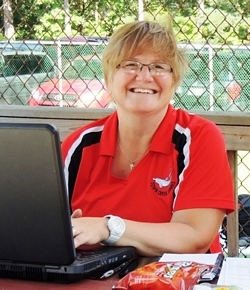 One of the Founding Members of the Chamber Orchestra of Southern Maryland In Concert and Southern Maryland Swim League Officer passes.

Laura Theofilis, 55, one of the founding members of the Chamber Orchestra of Southern Maryland In Concert (COSMIC) and Officer of the Southern Maryland Swim League (SMSL) passed away at her home surrounded by family and friends on 29 Jan 2021 after a 16-year battle with metastatic breast cancer.

Born Laura Ann Keates on 1 July 1965 in East St. Louis, Illinois, to Jeffery Alan Keates and the late Lynn Janine Keates, Laura moved to St Mary's County with her family in 1970, attended St Mary's County schools, and graduated from Leonardtown High School in 1983. Afterwards, she headed back west to attend Southern Illinois University at Carbondale where she pursued her passion in Music Performance. Laura dreamed of a career as a flutist with the Kennedy Center Opera House Orchestra but instead chose to return to St Mary's County to share her talents closer to family. Laura supported the V-22 community for nearly 20 years as a software engineer in the employment of several contractors and later co-coded the Patuxent River BASICS system.

Laura married her husband and love of her life, Chris Theofilis, in September 1993. They enjoyed nearly 28 years of marriage and family life together. Together they raised two beautiful daughters, Abigail and Isabel, who were her pride and joy.

Focused on bringing music to her community, Laura co-founded COSMIC in 1995, became Vice President in 1996, and served as President from 1998 until 2010 with her father as Treasurer and mother as Secretary. An inspired and talented musician, Laura performed with the orchestra as Flute Section Principal.

Laura had a passion for orchestra performance, but her most prized role was that of devoted wife and mother. Laura's favorite time was Sunday dinner, when she hosted extended family for fellowship and a memorable meal that nearly always ended in a game of cards and an irresistible dessert (or two).

In 2002, Laura became involved in the Southern Maryland Swim League (SMSL) when her daughters were old enough to join. Offering her computer skills first to the Town Creek Sharks, Laura quickly became the masterful user of the scoring computer for swim meets, eventually training other teams to successfully operate the Meet Manager©, and took the position of official SMSL Records Keeper. Laura beamed with joy at every mention of time spent with family and friends poolside.

Christmas was Laura's most favorite season, when she enjoyed all of her favorite pastimes: cooking, baking, sewing, scrapbooking, crafting, shopping, spending time with family and friends, and music. It wasn't Christmas until you received her custom invitation and attended the Keates/Theofilis Annual Christmas Open House, where guests appreciated the thought and planning Laura put into every decoration and hors d'hoeuvre. Laura enjoyed bringing together all people in her life, and she lovingly continued this family tradition started by her parents over 45 years ago.

Laura had tremendous will to live and survived many years thanks to many answered prayers from friends and family who she loved dearly. She was a gift to all and will be deeply missed. Laura was the heart of the family.

Laura was known for her infectious laugh, her encouraging words, and her kindness toward all. She had a peaceful, joyful spirit, and a very strong faith in God. Laura was a dear friend and "sister" to many.

Laura was preceded in death by her mother, Lynn, and Grandparents, George and Dorothy Keates and Merle and Dorothy Reed.

She is survived by her husband Chris, daughters Isabel and Abigail (Sarah Mattingly), father Jeff (Sherri) of Hollywood, Md.; brother Scott (Katie) of Great Mills, Md.; nephew Matt Keates (Jessica Clarke) of Great Mills, Md.; niece Julia Keates (Sam Norris) of St. Inigoes, Md.; and nephews Max & Nick Theofilis of Pittsburgh, PA and Alexander & Aristotle Theofilis of Cummings, GA.

Due to the COVID, a celebration of life will be held at a later date.

In lieu of flowers, a 1 time donation can be made in Laura's name to the COSMIC Symphony by downloading the sponsorship form at https://cosmicsymphony.org/support .