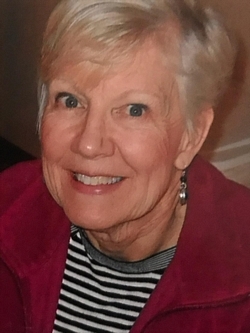 Judith Hammond Guffey, of Annapolis, Maryland, and long-time resident of Mechanicsville, Maryland, at the age of 74, died on January 30, 2021.

She was born on September 29th 1946 in Memphis, Tennessee, the daughter of Broadus Jeter and Lorraine Krause Hammond.

From two months on, she was a resident of St. Mary's County due to her father's Navy transfer from Millington, Tennessee. She lived briefly in Piney Point and Tall Timbers, and then moved to the Patuxent River Naval base in 1948. After her father retired in 1955, she and her family moved to Town Creek Manor, California, Maryland. She graduated from Great Mills High School in 1964, from St. Mary's College of Maryland (AA) in 1966, from Towson State University (BS) in 1968, and from Bowie State University (MEd) in 1974. For 32 years, she was employed with the St. Mary's County Board of Education as an elementary classroom teacher and as an instructional resource teacher in several schools in the county.

Ms. Guffey married Alvin Joseph Guffey on June 23rd 1968 in the Garden of Remembrance at St. Mary's College of Maryland in the first Baha'i wedding performed in the county. He died on August 5th 2005.

She was active in several professional organizations and in retirement with the SMC Public Schools Retirees Association. From 1965 on, she was very active in the Baha'i Faith as a children's teacher, a summer school instructor, a study circle tutor, and a member of the Local Spiritual Assembly as treasurer. Traveling, camping, and cruising were her big pastimes. She and her family visited all the states of the Unites States, all provinces of Canada, parts of Mexico, Europe, Israel, Egypt, Panama, Australia, and the Caribbean.

She was an accomplished seamstress, calligrapher, and gardener. As a genealogist, she and her husband published in 1976 a family book, Robert Sylvanus Floyd, Ancestors and Descendants. They traveled many places to complete research on his side of the family, too.

At the age of 52, she was diagnosed with multiple sclerosis, MS. Even though she gradually became disabled, she continued to stay active with her family, friends and community. She helped organize three Great Mills High School class reunions; the largest being in 2004.

Ms. Guffey lived with her progressive-chronic MS for over twenty years, breast cancer, and ultimately died of congestive heart failure.

Besides her husband, she was predeceased by her father, mother, and sister, Betty Jane Dacheux of York, Pennsylvania. Surviving are her two children, Nabil Isaac Wayne Guffey (April) of Charlotte Hall, Maryland, and Rouhi Guffey Hairston (Christopher) of Annapolis, Maryland; a twin brother, Harry Broadus Hammond (Betty) of Salisbury, North Carolina; a sister, Allison Hammond Cox (Christopher) of Castle Rock, Colorado; four grandsons - John, Daniel, Wyatt, and Chase; one granddaughter - Violet; and several nieces and nephews.

A Baha'i funeral is set for Wednesday, February 3, 2021 at 11:00 a.m. at Brinsfield Funeral Home, 30195 Three Notch Road, Charlotte Hall, Maryland 20622; followed by burial at Charles Memorial Gardens in Leonardtown.

In lieu of flowers, memorial contributions may be made to the National MS Society, 1800 M St., Suite 750 S., Washington, DC 20036 or Hospice of St. Mary's, P.O. Box 625, Leonardtown, Md. 20650.

Condolences may be made at www.brinsfieldfuneral.com

All arrangements have been made at Brinsfield Funeral Home & Crematory, P.A., Charlotte Hall, Md.