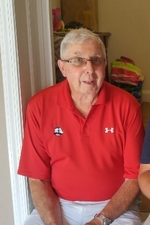 Allan Joseph Hayden, "Al", 84, of Leonardtown, MD, passed away on Friday, January 22, 2021 in Glen Bernie, MD. Born on October 2, 1936 in Washington, DC, he was the son of the late Kathleen & James Hayden. He was the loving husband of Jane Hayden. Al is survived by his children; James (Mary Ann) Hayden of California, MD, Jones (Nancy) Hayden of Brussels, Belgium, Kitten (Lenny) Wood of Leonardtown, MD, and Michael (Heather) Hayden of Chantilly, VA, Siblings; Frannie Long of Leonardtown, MD, James Hayden of Whitsett, NC, and Cheryl Laskowski of Little River, SC, 6 grandchildren, and 1 great-grandchild.

Al graduated from Margret Brent High School in 1954. He was a lifelong resident of St. Mary's County. He enlisted in the Air Force on July 20, 1954 and served four years, departing on July 19, 1958. Al was an Electronics Technician for the U.S. Government.

The Family will receive friends on Thursday, January 28, 2021 from 1:00 PM to 2:00 PM in Mattingley-Gardiner Funeral Home, P.A; where a Funeral Service will be held at 2:00 PM in the Funeral Home Chapel with Father Ryan Pineda officiating. Serving as pallbearers will be Arthur Farrell, Pete Himmelheber, Buddy Owens, Pat Woodburn, Alex Walters, Lin Vandenbos. Serving as honorary pallbearers will be Sean Wood and Bryan Wood.