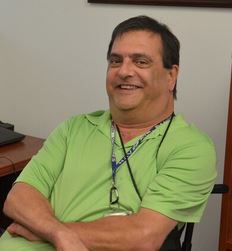 It is with deepest sorrow and heartbreak that we announce the passing of our son and brother Alec "Ed" Forsman. Ed passed peacefully at the Bridge Point Harbor Hospital in Washington, D.C. on January 23, 2021 at the age of 58. Ed loved life and lived it to the fullest.

He was born on October 9, 1962 in Oak Harbor, WA, to Arvid Edwin Forsman and Ann (Manley) Forsman of Solomons, MD.

The son of a Naval Officer, Ed and his family were stationed in several locations across the country, finally ending up in Southern Maryland where he attended and graduated from Ryken High School in 1980. After high school Ed had to decide to either go to a school for the arts (for piano) or pursue a degree in sciences. He chose a degree in sciences and attended the University of Chicago. In 1987 he received his degree in Mathematics.

While paralyzed at 18, he did not let circumstance control his life. He was the first quadriplegic to graduate from the University of Chicago. His can do attitude was an inspiration to so many.

After graduation he began a Government career as a computer specialist with the Naval Air Systems Command (NAVAIR), specifically the Atlantic Test Range (ATR). He continued his studies and received a Master's degree in computer information systems from the Florida Institute of Technology in 2004. Ed was considered throughout the Navy as a photogrammetric subject-matter expert and was inducted as a NAVAIR Associate Fellow in 2013 and a full Fellow in 2018.

In 2016 Ed was awarded the Outstanding DoD Service Members and Civilians with a Disability Award by the Secretary of Defense Ash Carter. The award is the highest honor DoD grants to recognize the contributions of disabled employees.

Ed was a lover of mankind and always strived to be supportive and encouraging to those around him. He was a devoted son, brother and friend to many. Ed was known for his dry sense of humor and his ability to remain calm, cool and collected when needed. He loved spending time with people just chatting, or as he would like to say "solving the world's problems".

Ed will be sadly missed and lovingly remembered by his parents Arvid "Ed" Forsman and Ann (Manley) Forsman; his siblings Daniel (Rhonda) of Lawrenceville, GA and Laurie Ann Hogan of Fort Frances, Ontario; his nieces and nephews Jennifer Hanford (Nate) and her two children Wyatt and Daphne, Daniel S. Forsman, Stephanie Forsman and David Forsman, as well as extended family and friends.

In lieu of flowers the family is respectfully requesting memorials be sent to the Spinal Cord Society, 19051 County Hwy. 1, Fergus Falls, MN or online at scsus.org

A memorial service will be held at Brinsfield Funeral Home, P.A., 22955 Hollywood Rd., Leonardtown, MD on February 13, 2021 at 3:00pm. The service will also be live streamed on www.brinsfieldfuneral.com .

Condolences to the family may be made at www.brinsfieldfuneral.com.

Arrangements are entrusted to Brinsfield Funeral Home, P.A.