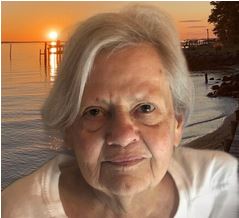 Charlotte Ann Droddy, 79, of Leonardtown, MD (formerly of Upper Marlboro, MD) passed away on January 25, 2021, at her home with her loving family by her side.

She was born on May 11, 1941 in Clarksburg, WV to the late Howard J. Wolfe and Anna Rock Wolfe.

Charlotte is a 1959 graduate of Victory High School in West Virginia. On May 21, 1962, she married the love of her life, Jerry Lee Droddy in Winchester, VA. Together they celebrated almost 59 wonderful years of marriage. She was a devoted and loving wife, mother, sister and grandmother. She was her family's biggest cheerleader, believing in them and supporting them in all of their endeavors. She became a wonderful cook after she was married, with her father teaching her by phone. She especially enjoyed making holiday meals for her family. Some of her specialties and family favorites included oyster dressing, stuffed peppers, cabbage rolls and lasagna. She enjoyed having parties and cookouts at her home on the Potomac River and having all of her children and grandchildren at the house and enjoying the water. She especially loved Maryland blue crabs and could pick them all night long. She loved beach vacations to Ocean City and later Myrtle Beach. Trips home to visit her family in West Virginia were very important to her. Charlotte was an avid Washington Redskin fan and proudly drove a customized Redskin van back in the day.

In addition to her beloved husband, Jerry, Charlotte is also survived by her children: Monica Droddy of Hollywood, MD, Jerry L. Droddy, Jr. of Myrtle Beach, SC, Jacqueline Droddy (Keith Devoto) of Shady Side, MD, and Terry Droddy (Christopher Volta) of Upper Marlboro, MD; her siblings: Shirley Riggs (William Wesson) of Vienna, WV, Martha Shaffer of Clarksburg, WV, Carolyn "Sue" Welch (Richard) of Bridgeport, WV, John Wolfe of Clarksburg, WV, and Lawrence Wolfe of Lost Creek, WV; her grandchildren: Amanda Baker (Eric), James Droddy, Jera Droddy, Jacob Campbell, Taylor Fowler, Anna Devoto, Brooke Volta; her great grandchildren: Eva Baker, Charlotte Baker, Theo Baker, Emmy Baker, and Ryland Droddy; and many nieces, nephews and extended family and friends. In addition to her parents, Howard and Anna Wolfe, she is also preceded in death by her brother, James "Bud" Wolfe; brothers-in-law: Joseph Shaffer and Howard Riggs; and sister-in-law, Eva "June" Wolfe.

In light of COVID-19, all services will be private.

Condolences to the family may be made at www.brinsfieldfuneral.com.

Arrangements by the Brinsfield Funeral Home, P.A.