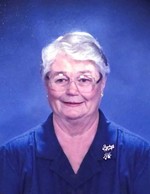 Mary Jeanette "Jean" Raley Brown, 82, passed peacefully Sunday, January 17, 2021 at her home in Leonardtown surrounded by her loving family. Jean was born October 14, 1938, the second of four children, to the late Joseph Howard Raley, Sr. and Mary Jeanette Russell Raley and raised on a farm in Clements. Her siblings are Charles Raley of Lexington Park, and Carolyn (Bubby) Norris of Chaptico. In addition to her parents, Jean was also predeceased by her older brother Joseph "Joe" Raley, Jr.

The Raley family attended St. Joseph's Catholic Church in Morganza. Jean graduated from St. Joseph's School in 1952 and from Margaret Brent High School in 1956. Soon after graduation she began working at the John R. Drury Insurance office in Leonardtown. Jean married Ralph Hewitt Brown on February 16, 1963 at St. Joseph's and moved to the Brown family farm in Leonardtown where they built their home. She promoted herself from the insurance office to fulltime wife, mother and homemaker in 1967 at the time of her first child's birth. Two more children followed, and her hard work continued, including working on the farm with Ralph. She did whatever was needed, from preparing meals to climbing in the barn to help hang tobacco. Together, Jean and Ralph always managed to make the ends meet and keep them tied. They instilled in their children belief and faith in God, devoted commitment to family, and a strong work ethic. Each week started by attending Mass at St. Aloysius.

In addition to her husband, Ralph, and siblings Charles & Carolyn, Jean is survived by her sons David (Lisa) of Mechanicsville and Michael (Dora) Brown of Leonardtown, and daughter Diane (Rick) Gooding of Leonardtown. She is also survived by her greatest source of pride and joy, her seven grandchildren who knew her as "Maw Maw," Taylor Brown, Madalyn Gooding, Britney Brown, Dylan Brown, Breana Brown, Laci Brown and Colby Brown. Numerous nieces and nephews also survive Aunt Jean. She was a role model example to us all and is now soaring with the angels and cardinals.

In addition to nurturing her family, Jean enjoyed cooking, baking, vegetable and flower gardening, canning, recipe collecting, playing cards, cowboy movies, good, old country music, doing crossword, wordsearch, sudoku and jigsaw puzzles, sitting on her porch and watching the birds, especially hummingbirds, as they visited her feeders and birdbath, and just about anything that was red. She cooked for and hosted many family and holiday meals. Everyone loved her cooking and there were many things she simply made "the best of."

Services for Jean will include viewing at Mattingley-Gardiner Funeral Home on Friday, January 22, 2021 from 9:30 to 10:30 a.m. with an 11:00 a.m. funeral Mass at St. Aloysius Church followed by interment at St. Aloysius Cemetery, all in Leonardtown. Pallbearers will be grandsons Dylan & Colby Brown and nephews Chip Raley, Mark Norris, Gary Norris, and Randy Raley. Honorary pallbearers will include granddaughters Taylor, Britney, Breana & Laci Brown and Madalyn Gooding along with Jean's remaining nieces and nephews, near and far.

Donations in honor and memory of Jean may be made to Hospice of St. Mary's, Leonardtown Volunteer Fire Department, Leonardtown Volunteer Rescue Squad, or the St. Mary's County Department of Aging & Human Services.