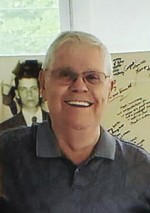 Thomas Frederick "Tommy" Gray, 86, of Hollywood, MD, passed away peacefully on January 14, 2021, at his home with his loving family by his side.

Tommy was born in Chaptico, MD, on May 31, 1934, to Frederick Carroll "Freddie" and Mary Elizabeth Anderson Gray. He was Freddie and Mary's first-born child and grew up working on the farm. Tommy married his sweetheart, Agnes Patricia "Pat" Hall Gray, on June 26,1954. Together they celebrated 66 years of marriage, had five children, and built a foundation of love and faith on which their family has grown.

After graduating from St. Mary's Academy in Leonardtown, MD, in 1952, Tommy was on the road the majority of his life. His favorite motto was to Keep on Truckin'. Tommy drove a truck for Southern MD Transportation for several years, traveling to and from Baltimore making deliveries daily. In 1989, he bought the company and turned it into Government Contract Services (GCS). As owner of GCS, Tommy provided logistical support to the U.S. Government which included hauling secret and classified material. The best part of Tommy's business was that his devoted wife and two sons worked alongside him until his retirement in 2014.

Tommy enjoyed playing pitch and catching the jack with a big thump on the table (like father like son!) He was a great card player and also loved playing the slot machines, especially at Horseshoe and Dover Downs. Often times after delivering a GCS shipment to the Dover Air Force Base, he would swing by Dover Downs just to try his luck.

Tommy was quite the rascal and his jokes would have even the best blushing. He was quick-witted and ALWAYS smiling, which he said made others wonder what he was up to next. Tommy had an infectious, likeable, and easy-going personality. Every stranger was a friend, and because of his honesty and personality, many of his GCS customers became lasting friends of the family.

As a husband, Tommy was very attentive and doted on his beloved wife, Pat. He could not do enough to help her out around the house and was sad when he could no longer do all that he wanted to make her comfortable. Every morning, they would sit with their coffee and say their prayers together. Every night, he would say to her "Good night darling. I love you darling. Sweet dreams darling. Dream about me darling." Pat was the love and light of his life. Their faith in our Lord and in each other was truly a blessing to witness.

Tommy loved all of his family "so very very much", and you could not visit him often enough. Although he was a jokester, his children and other family members could always count on him for the best advice. He was a wonderful father who gifted his children with unconditional love. He would call them everyday just to hear their voices and see how they were doing; he always wanted to be present in their lives. His children knew his love was a guarantee and that he would always welcome them with loving and open arms.

As a grandfather, Tommy embraced all of his grandchildren with everlasting love, respect, and kindness. He wouldn't let a day go by without reminding them just how much he loved and cared about them. Tommy's grandchildren knew that whenever they walked onto his front porch, they would be greeted with a big ole' smile, followed by a hug and a kiss. His face would light up whenever he saw any of his grandchildren, no matter the occasion. Tommy made sure their lives were filled with endless memories of love and laughter. His love was one of the purest and sweetest kinds, leaving an unmistakable mark on all of their hearts forever.

He is survived by his loving wife, Pat, and five children Patricia Anne "Patti" Johnson (Kenny); John Bernard "Johnny" Gray (Sally) both of Hollywood, MD; Michael Anthony "Tony" Gray (Donna) of Mechanicsville, MD; Mary Susan "Susie" Norris (Ricky) of Hollywood, MD; Catherine Marie "Cathy" Propst (Brian) of Glen Burnie, MD, and a special granddaughter/caregiver Christina Leigh "Christi" Johnson Sabol (Bill) of Dundalk, MD. He is also survived by his brothers William Bernard "Bunny" Gray (Joyce) of Citrus Heights, CA; Charles Patrick "Charlie" Gray (Wilma) of O'Fallon, MO; Robert "David" Gray (Mary) of Hollywood, MD; Ralph Thelbert Gray (PeeWee) of Mechanicsville, MD; sister-in-law Peggy Berry; 14 grandchildren; 17 great-grandchildren; 2 great-great-grandchildren, and numerous nieces, nephews, and friends all who love him very much. He was predeceased by his parents, his brother James Anthony "Jimmy" Gray, and sister, Mary "Rosalie" Carpenter.

The family will receive friends on Wednesday, January 20, 2021, from 5:00 to 8:00 p.m. with prayers recited at 7:00 p.m. in the Mattingley-Gardiner Funeral Home, Leonardtown, MD. A Mass of Christian Burial will be celebrated on Thursday, January 21, 2021, at 10:00 a.m. in St. John's Catholic Church, Hollywood, MD, with Father Ray Schmidt officiating and Deacon Ammon Ripple and Father Eamon Dignan (Ret.) co-officiating. Interment will follow in the church cemetery. Serving as pallbearers will be Brian Propst, Jr., Thomas Gray, Jimmy Gray, Pat Clarke, Ralph Gray, Jr., and Scott Gray. Honorary pallbearers will be Glenn Hall, Brandon Propst, and his precious grandchildren.

The family would like to express our sincerest gratitude for the outpouring of love, support, and prayers on Tommy's passing. Until we meet again…

Memorial Contributions may be made to Hospice of St. Mary's, P.O. Box 625, Leonardtown, MD 20650 and St. John Francis Regis Catholic Church, 43950 St. John's Road, Hollywood, MD 20636.