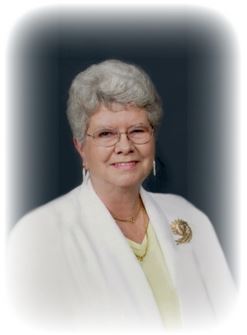 Angela Evelyn Brown joined our Lord on Friday, January 15, 2021. Angela was born in Baltimore, Maryland on April 25, 1936 as the only child of Albert D. Perce and Evelyn Byrne Pearce. She was educated in the Catholic school system in the Baltimore area. She was a graduate The Institute of Notre Dame High School. As a side note, Senator Barbara Mikulski was a homeroom classmate. Angela was a parish member of Immaculate Heart of Mary Catholic Church in Lexington Park, Maryland.

Although she was a resident of Lexington Park, Maryland, she was recently living at the Solomons Nursing and Rehab Center in Solomons, Maryland. Angela is survived by her husband, Captain Donald L. Brown, USN (Ret) of Lexington Park; her daughter Deborah B. Radivo and son-in-law Nick A. Radivo of Centreville, Maryland. She is predeceased by her 9 year old daughter, Barbara E. Brown; her parents of Baltimore; her mother and father in law, Hazel and Nelson "Chub" Brown of Fort Scott, Kansas and an aunt and uncle, Colonel and Mrs. Joseph Buchta, USAF (Ret) of St. Petersburg, Florida.

Angela learned of some opening government jobs and applied for and got a position with the National Security Agency. She soon learned that she could not tell anyone where she was employed other than the Department of Defense. She was a hard worker and quickly became an administrative assistant to a senior agency official. While working at the agency Angela began dating a midshipman at the U.S. Naval Academy who upon graduation was assigned a tour of duty in the Far East, primarily Japan. The relationship continued during the absence. Upon his return and assignment to the National Security Agency, Don asked Angela to become his bride. They were married on June 27, 1959 at the U.S. Naval Academy Chapel and established a home in Laurel, Maryland.

Angela and Don enjoyed the remainder of his 31 year Navy career together as they moved from one part of the world to the next. Angela's first overseas tour was in Turkey during the Cuban Missile Crises. Next came Monterey, California while Don attended the Naval Postgraduate School to study Electronics Engineering and add Deborah to the family. Following tours included several assignments in the Washington, D.C. area; San Miguel, Republic of the Philippines, where she was involved along with other wives in monitoring the wellbeing of wives of naval personnel deployed to ships operating in the Gulf of Tonkin and detachments "in country" Vietnam. She also attended local Philippine functions as part of the Navy people-to-people program and interfaced with local Philippine officials; U.S. Naval Communication Area Master Station, Guam, where Don was the Executive Officer while Angela represented the command as 1st Lady at many military and local island functions. In 1975, Angela was involved in "Operation New Life" when over 100,000 evacuees were taken to Guam for care and processing when Vietnam fell to the communists. Don's command ended up operating three different evacuee camps. As the first camp was opened on about eight hours advance notice before they arrived, Angela organized and lead the command wives in feeding and supporting other needs of the arriving families at the first camp. The food was prepared by navy cooks, but since the station was a 24 hours a day 7 days a week fully operational command, there were no extra military personnel. So, the support and work of the family volunteers was important and appreciated. Following the completion of Operation New Life of the Indochina Refugee Program, Angela was awarded a Letter of Appreciation for "Extraordinary Effort" by Rear Admiral Kent Carroll, Commander U.S. Naval Forces Marianas and a Certificate of Appreciation from the Interagency Task Force for Indochina Refugees "For valued service to the humanitarian effort of resettling the refugees from Indochina in `1975" signed by Donald Rumsfeld, Secretary of Defense and Julia Taft the Task Force Director. Also, Guam was wiped out by Typhoon Pamela in 1976 and again Angela saw needs. The local American Red Cross support office operated out of the Brown's kitchen. In 1979, Don became the Commanding Officer of Naval Security Group Activity Adak, Alaska and Angela was again in her unofficial role of first lady with responsibilities of overlooking support of families both civilian and military. She hosted many visitors to Adak and welcomed new command officers and spouses.

Upon moving to St. Mary's County in 1985, Angela again became an involved citizen. She became involved in activities at her church, Immaculate Heart of Mary Catholic Church in Lexington Park and worked with an interfaith group supporting senior citizens in the county. The director of St. Mary's County Department of Social Services, Ella May Russell, recognized Angela "for outstanding and dedicated service" as a member of the Interfaith Volunteers. Also, she decided to get involved with the Republican Party to try and level the political field for a large number of citizens in St. Mary's County. During the 1990's she served several terms as President of the Republican Women of St. Mary's County; as a Vice President of the Maryland Federation of Republican Women and as St. Mary's County Chairman for the Ellen Sauerbrey for Governor campaign. She also worked as a volunteer for many other republican candidates up and down the tickets. She also served as a Red Cross Volunteer, working at blood drives and as a member of the local disaster team responding to local fires to assist victims. At the IHM Catholic Church she served many years as a Eucharistic minister. Also, she served as a longtime volunteer of the IHM St. Vincent de Paul organization and their food pantry operation gathering donated food, distributing food and serving as the organization's treasurer. She also served for at least 15 years as the organizer of the church's fall dinners.

A funeral Mass is scheduled to be held at the Immaculate Heart of Mary Catholic Church in Lexington Park, Maryland, on Tuesday, 26 January at 11:00 A.M. A visitation period will be held prior to the Mass between 10:00 A. M. and 11:00 A.M. Arrangements are being made by the Brinsfield Funeral Home in Leonardtown, Maryland.

At a later date, Interment will be in Arlington National Cemetery with her and Don's daughter, Barbara.