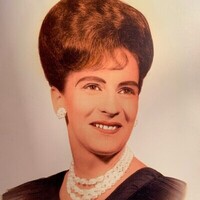 Gloria Margaret Sanders was born in Washington, D.C. on August 21, 1937 to Giorgio and Alba Franchi, Italian immigrants who became well-known owners of Franchi's Italian Restaurant in Chesapeake Beach, (North Beach) MD. She was the third of four children, who also included Joy Marie Cassidy, Patricia Liana Nault, and John Franco Franchi. Franchi's Italian Restaurant opened in 1941 in Chesapeake Beach, MD, and Gloria spent her younger years dishwashing and serving patrons and helping to run the attached hotel. On Mondays when the restaurant was closed – "the day off where they worked harder than ever" as she used to recall—she helped with deep cleaning the stove, ice cream machine, and preparing pasta and pizza dough and sauces. When her father, Le Cordon Bleu-trained Chef Giorgio Franchi died, her mother Alba stepped in as the head chef of the restaurant, and Gloria began to help in the kitchen as well. Even when she married and started a family, Gloria would drive from PG county to Chesapeake Beach on the weekends to help in the restaurant. Family was paramount among the Franchis, and huge extended family meals would be hosted at the restaurant on Thanksgiving, Christmas, and Easter with 13-14 courses prepared by Nonna Alba Franchi until the restaurant's closure in 1991.

Gloria learned to work hard and grew to have endless energy. While working at Georgetown Hospital Center as a medical secretary at the age of 18, she met the love of her life, Charles Cary Sanders of Washington, D.C. They married just 5 weeks later on June 22, 1957, she wearing the mannequin model dress she found for a steal at a dress shop. They first settled in Kaywood Gardens in a small basement apartment, where her first two boys Cary and James were born. They then moved to Wedgewood in Berwyn Heights, MD where Michael was born and Lanham, MD where Patrick was born. Chuck and Gloria purchased property in Mitchellville (Bowie) and together with their boys built a beautiful Georgian style home in 1980/81, where Gloria resided for the next 40 years raising her boys and remaining after Chuck died in 1998. As a family, they camped and hunted in Virginia, West Virginia and Wicomico Shores, enjoyed trips to the beach with giant picnics she prepared, and occasionally drove to Florida for vacation. After her children grew, Gloria worked in the cafeteria at Robert Goddard Middle School, taught Driver's Ed for the PG county school district and then also worked as head secretary first for Mrs. White at Kettering Middle School, then later at the administration headquarters in Upper Marlboro. Even after retirement, Gloria took on legal secretary work for many years at Ashcraft & Gerel and McNamee Hosea, spreading her pleasant demeanor and friendliness to coworkers, and lightening the atmosphere with outrageous costumes at Halloween and Christmas purely for the fun of it.

Gloria was unassuming and would never take on the title of matriarch, but for the 22 years after her husband passed away, she was the center of family get-togethers and the nucleus of love for her sons, daughters-in-law, many grandchildren and great grandchildren. Every family function was only complete with a giant lasagna and her famous chicken cacciatore, and she would spend hours chatting and reminiscing while picking crabs at the annual Franchi Family Reunion on Broome's Island, MD. Gloria was a gift-giver, and showered her loved ones with thoughtful gifts, both large and small. She adored children and put herself at their level, talking and playing and giving them her full attention. She had a deep love of her dogs Buster and Delilah, spoiling them tremendously, and in return was deeply adored. The hole she leaves in this family cannot be filled, and we grieve for her loss, for the loneliness this last year offered with working from home, curtailed family functions, and the trauma of packing up her life and home to move to Florida with son Michael and daughter in law Jessyca Sanders.

The family will receive friends for Gloria's Life Celebration on Saturday, January 23, 2021 from 2:00 p.m. until 3:30 p.m. at Brinsfield Funeral Home & Crematory, P.A., 30195 Three Notch Road, Charlotte Hall, MD 20622. A funeral service will be held at 3:30 p.m. also at Brinsfield Funeral Home and officiated by Deacon Bill Kyte (from Immaculate Conception Catholic Church). For those unable to attend, the service will be live streamed at www.brinsfieldfuneral.com. Interment will be held privately.

In lieu of flowers the family would like donations be made in Gloria's name to either St. Jude Children's Hospital, 501 St Jude Place, Memphis TN 38105 Www.stjude.org or Rude Ranch Animal Rescue 3200 Ivy Way, Harwood, MD 20776, Www.ruderanch.org

Condolences may be made at www.brinsfieldfuneral.com

All arrangements have been made at Brinsfield Funeral Home & Crematory, P.A., Charlotte Hall, MD.