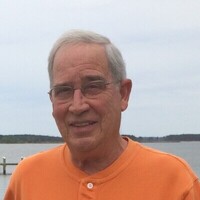 Robert "Bob" Michael Davis, 76, the loving husband of Linda Jane (Hare) Davis, died at his home on January 14, 2021. Born July 15, 1944 in Lansing, Michigan, the second (2) of six (6) children. Born to the late George and Rosella (Prowdley) Davis.

Bob was married for fifty-seven (57) years to his childhood sweetheart, Linda. After graduating from Johns Hopkins University in 1966, he entered the retail grocery business. Former Vice President of Food-a-Rama, he fulfilled his lifetime dream to be a grocery business owner, purchasing the Charlotte Hall IGA. Establishing RLS Charlotte, Bob owned and operated the Charlotte Hall and North Beach IGA locations with his wife and son. Retiring his business ownership in 2001, Bob continued to work part time in the grocery business for Mattingly's and later McKay's. Bob enjoyed retirement with Linda in their Mechanicsville home.

Bob is survived by his wife, Linda; daughter Kelly Huebler (David); son Steven Davis (Dina); grandchildren, Abigail and Christopher Huebler; and his sisters, Susanne Davis, Patricia Troyer and Carol Davis. Bob is preceded in death by his brothers, Ransom J. Davis and John Michael Davis

All services at this time are private.

Memorial contributions may be made to the Chesapeake Bay Foundation.

Condolences to the family may be made at www.brinsfieldfuneral.com.

Arrangements by the Brinsfield Funeral Home & Crematory, P.A.