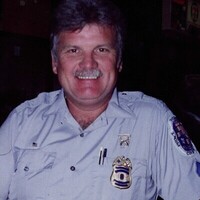 Robert "Bob" Raymond Stallings, 75, of Brandywine, Maryland passed away peacefully at home January 11, 2021.

Bob was born August 29, 1945 in Cheverly, Maryland to the late Hillary and Anna Stallings. He was one (1) of three (3) children.

After graduating high school, Bob found his calling to protect and serve as a proud Prince George County Police officer. Not long after he found the love of his life, Rebecca Stallings. They pronounced their love to the world when they said their vows before the Justice of the Peace and shared 23 wonderful years together.

Bob was always an ambitious man with a strong work ethic and a kind heart. He was an avid hunter and was a member of the Pinehill Hunt Club. Bob often would be out in the middle of the woods breathing in the crisp spring air or dropping a line in the water on a humid summer evening. When Bob wasn't searching for the perfect fishing spot he was searching for some beautiful vintage cars or the newest trucks. When he wasn't on the hunt, he was doing what he loved the most. Spending time with his wife, children, and his grand babies.

Bob is survived by his wife, Rebecca Barbara Stallings (Humulock) of Brandywine, Maryland; his step son Joe P. Dooley (Erin) grandchildren Joey, Sophia, Vinny of Huntingtown, Maryland, and Matthew R. Dooley (Ashley) grandchildren Matt Jr. and Ava of Huntingtown, Maryland; his step daughter Caitlin Dooley (Banks) bonus grandchildren Brayden, Blake, Kalleigh of Brandywine, Maryland; his granddaughter Robyn Lear (Scott) and great granddaughter Aleeya of Florida; his brother Paul Stallings of Brandywine, Maryland; his sister Beverly Edelen of Myrtle Beach, North Carolina. Bob is preceded in death by his parents Hillary Stallings and Anna Virginia Stallings (Lohman).

Father Flum will conduct a funeral service at 10:00 am, January 21,2021 at St. Michaels Church, 17510 Horsehead Road, Brandywine, MD 20613.



Condolences to the family may be made at www.brinsfieldfuneral.com.



Arrangements by the Brinsfield Funeral Home & Crematory, P.A.