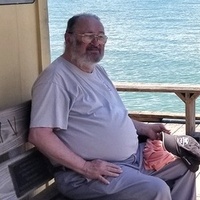 Peter Kirk Bruno, 79, of Lusby, Maryland, passed away on January 15, 2021, surrounded by his family.

He was born to parents, Anthony and Angela Bruno on December 11, 1941, in Allentown, PA. Pete graduated from Plymouth Whitemarsh High School.

He was married to Sharon, wife of 56 years and love of his life, who survives him. Pete is also survived by his children: daughter Jacqueline Clymer and her husband Mark, son Anthony J. Bruno, daughter Janna Bruno, and daughter Jessica Malone and her husband Joseph; his four grandchildren: Alyssa Clymer, Reid Clymer, Samantha Malone, and Madison Malone; and his sisters: Leila Bruno, Antoinette Afrikian, April Schmitt, and Josepha "Pepi" Bruno.

Pete worked as a Navy civilian, Electronics Technician for 35+ years at the Naval Air Development Center/Naval Air Warfare Center in Warminster, PA, and the Naval Air Station in Patuxent River, MD. After retiring from the Navy, Pete worked for Fort Monmouth Army Base in Eatontown, NJ, and later returned to NAS Patuxent River as a Senior Electronics Specialist for Navmar Applied Sciences Corporation. He retired at the age of 74.

Through the years, Pete enjoyed hunting, fishing, sailing, and vacationing with his family at the Outer Banks. Pete loved the beach. He liked to play tennis and was an avid Phillies fan; Pete took the family to see the local games. Pete and Sharon enjoyed watching NASCAR races each Sunday. He loved food, especially spaghetti and meatballs, seafood, and rare steak.

Pete never met a stranger. He could strike up a conversation with anyone and made friends everywhere he went. Everyone Pete knew remembers him for his sense of humor and ability to always make a joke to brighten up the room.

A private service for immediate family will be held in Maryland. A celebration of Pete's life for friends and family will be held once it is safe to do so. If you would like to make a donation in Pete's memory, please consider one of these charities: Outer Banks Forever or The Chesapeake Bay Foundation.

Condolences to the family may be made at www.brinsfieldfuneral.com.

Arrangements by the Brinsfield Funeral Home, P.A.