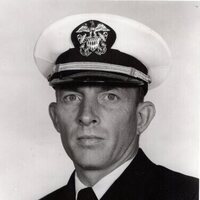 Lt. Danny Glen Smith Sr., USN (Ret.), 72, loving husband, father of four children and grandfather to 13 grandchildren passed on to his eternal home during the early morning hours of January 15, 2021, surrounded by his loving family after a long battle with cancer.

Danny was born on August 9, 1948 in Portales, NM, the oldest child of Ben William Smith and Francis Jo Short. As a child, he lived in various locations throughout New Mexico as his family moved in support of his father's career in road construction, the family eventually settling in Lubbock, Texas in 1960. After joining the Navy at the young age of 17, he would seek out the thrill of bull riding in the rodeo near NAS Imperial Beach. While stationed in California, Danny would meet the love of his life, Judee Gisele Giguere, at the Enlisted Club and they would be wed just 3 months later on March 24, 1969, in San Diego, CA. His Navy career would lead them from California to Arizona, the Philippines, Texas, Hawaii and Maryland, where together they would raise their four children.

Danny was known for his honest character, love of Jesus and dedication to his family. He was active in his church, Lexington Park Baptist and then moved to Leonardtown Baptist in 2006. You could often find Danny in Bible studies, as he was always eager to learn more. He always had a loving smile and hug for his family members and was known for his kind words and compassionate heart. Danny was a dedicated board member for Lexington Park Christian School for many years and was instrumental in the founding of the Kings Christian Academy and their campus site selection. He also served as the treasurer of his church for countless years and would devote much of his time to integrating and updating the financial systems of both organizations. In his free time, Danny enjoyed relaxing while golfing at the Cedar Point Golf Course or hitting a bucket of balls at the driving range.

Danny's naval career began in 1965 at boot camp in Great Lakes, Illinois during the dead of winter. After attending "A" school to become an Aviation Machinist's Mate Jet Engine Mechanic, one of his earliest assignments was Plane Captain and Landing Signalman to "Old 66", the helicopter made famous for its role in recovering the Apollo missions. During this time, his squadron would recover Apollo 8, 10 and 11 and was also diverted to support the USS Pueblo after it had been captured in North Korea. His Navy career led him to Vietnam in 1969 while onboard the USS Ranger and again after being reassigned to CH-46 Squadron HC-3 onboard the USS White Plains. Many of the aircraft he supported while stationed in the Vietnam theater would come back to the ship saturated in the carcinogen Agent Orange after having flown support missions behind the aircraft used to deploy the deadly herbicide. Later, he would go on to be stationed at MCAS Yuma, NAS Cubi Point, NAS Beeville, NAS Barbers Point and eventually retiring after 24 years of active duty at NAS Patuxent River. While at NAS Cubi Point in the Philippines, after having been named Sailor of the Year and promoted to Chief in record time, Danny would apply and be accepted into the Navy's Limited Duty Officer program. Danny's dedication to the Navy led him to develop several specialized aviation tools and equipment to be used in servicing the aircraft which would be recognized his numerous Navy Achievement medals – some of these devices are still in use by the Navy to this day. He accepted his Commission in 1979 and would go on to serve as the Maintenance Officer of HSL-37 in Hawaii and then Rotary Wing and Strike Aircraft Directorates at NAS Patuxent River in Maryland. Danny was honorably retired in 1989 and would continue on as a government contractor supporting NAVAIR for the next 28 years, much of that time with Veridian, which would eventually become Wyle Labs while supporting PMA-265 through the Super Hornet transition and then with the Blue Angels upgrade evolution.

After retirement, Danny and Judee were able to travel to visit friends and family in their RV. They took many road trips that included much of New England and even parts of Canada and the Smokey Mountains. They even went on an amazing once-in-a-lifetime dream cruise to Alaska where they were able to create lasting memories. At home he enjoyed bird watching, swimming in their pool with his beloved grandkids and woodworking in his workshop. An artist with wood, Danny would build beautiful hand-crafted baby cradles for each of his grandchildren.

Danny was preceded in death by his father, Ben William Smith and his mother, Francis Jo Short (Norris), both of Lubbock, Texas. He is survived by his wife of 52 years – Judee Gisele Smith; their four children, Danny Glen Smith, Jr. (Terri) of Fall Branch, TN, Donna Christine Kumar (Allen) of Raleigh, NC, Benjamin Paul Smith (Kathleen) of Leonardtown, MD and Travis John Smith (Laura) of Lusby, MD; his sisters Lynda Sharron and Alma Cleo (Snooks) both of Lubbock, Texas and his thirteen beautiful grandchildren – Samuel Christopher Smith, Emily Elizabeth Kumar, Benjamin Elijah Smith, Grace Alexander Kumar, Alexandra Meadow Smith, Nathanael Thomas Smith, Hannah Elizabeth Smith, Katelyn Joy Kumar, Abigail Elizabeth Smith, Lincoln Travis Smith, Lillian Grace Smith, Lucie Taylor Kumar and Andrew Jackson "AJ" Kumar.

Family will receive friends on Saturday, January 23, 2021 from 11:00 a.m. to 12:00 p.m., with a Celebration of Life in honor of Danny beginning at 12:00 p.m. at Leonardtown Baptist Church, 23520 Hollywood Road, Leonardtown, MD, 20650. There will also be a live presentation via Zoom for those unable in attend in person – you may join the celebration at noon on Saturday by going to https://zoom.us/j/93609580038 and using the passcode: cowboy. Interment will be at Arlington National Cemetery at a date later to be determined.

In lieu of flowers, the family requests consideration of memorial contributions to either the King's Christian Academy Scholarship Fund, 20738 Point Lookout Road, Callaway, MD, 20620 or to the Care Net Pregnancy Center of Southern Maryland, PO Box 31, Lexington Park, MD, 20653 – or online at https://www.myegiving.com/App/Giving/carenetsomd.

Condolences to the family may be made at www.brinsfieldfuneral.com.

Arrangements by the Brinsfield Funeral Home, P.A.