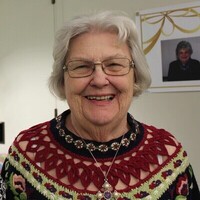 Mary Jo Comer, 82, of Solomons, Maryland, passed to a life of greater glory with God on Thursday, January 14, 2021. She died peacefully at Asbury Skilled Nursing Center after a long battle with diabetes and dementia.

Mary Jo was born on March 18, 1938 in Charleston, WV, making her appearance in this world only minutes before her twin sister Martha. She was the daughter of the late Ralph and LaRene Adkins James. In addition to twin sister Martha James Brillhart (husband Ron), Mary Jo is also survived by her younger brother Ben James (wife Renda) and sister Judi Sugalski.

Mary Jo attended Charleston High School, where she met her future husband Joseph Ernest Comer. Mary Jo and Joe both attended West Virginia University and married on June 2, 1958. Mary Jo left WVU before graduating and taught school in a one-room schoolhouse in Monongalia County, WV while Joe finished his engineering degree. In 1960, Mary Jo and Joe relocated to Lexington Park, Maryland, where Joe had secured a job as an aerospace engineer at Patuxent River Naval Air Test Center. Mary Jo continued her college education in Maryland, receiving a bachelor's degree in Education from St. Mary's College and master's and Doctor of Education degrees from University of Maryland.

Mary Jo and Joe were married for 50 happy years until Joe's death in November 2008. Their life together was defined by faith, family, dedication to their careers, and love of travel. Mary Jo taught kindergarten at Trinity Lutheran Church in Lexington Park, high school English at Chopticon High School, and was a Professor of Communications at College of Southern Maryland. She served as Vice Principal at Chopticon HS, was the Supervisor of Language Arts and Foreign Languages for the Charles County Board of Education and led the Maryland Department of Education team in developing the required English high school assessment (HSA) test for Maryland's high school seniors. Mary Jo was a faithful member of Lexington Park UMC where she led the Methodist Youth Fellowship (MYF) group for many years and later, Mt. Zion UMC where she taught Sunday School. Together, Mary Jo and Joe traveled extensively throughout the United States and around the world, culminating in a 50th anniversary cultural and photo safari trip to South Africa and Zimbabwe.

Mary Jo is survived by her daughters Joyce Comer Rose (husband Dale) and Jill Michele Comer Norris (husband Woody); grandchildren Brian Rose, Beau Rose, Samantha Campbell Goldsmith (husband Steven), Matthew Campbell, Christina Campbell Espinosa (husband Allen), Christopher Campbell (fiancé Heather) and Elissa Lily Campbell Norris; and great-grandchildren Trent, Michele, and Andrew. She was preceded in death by her grandson Steven Campbell.

Family will receive friends to celebrate Mary Jo's life on Friday, January 22 from 5-7 p.m. at Brinsfield Funeral Home, 22955 Hollywood Road, Leonardtown, MD. Funeral Service will be held on Saturday, January 23 at 11 a.m. at Mt. Zion United Methodist Church, 21708 Mt. Zion Church Rd, Mechanicsville, MD. You can view the funeral service online at the churches You Tube channel with the link provided https://www.youtube.com/channel/UCbvGGv0k3LTUPNVKJSG0PMg. Interment will follow in the church cemetery.

Memorial contributions may be made to the Alzheimer's Association at https://www.alz.org.

Condolences to the family may be made at www.brinsfieldfuneral.com.

Arrangements by the Brinsfield Funeral Home, P.A.