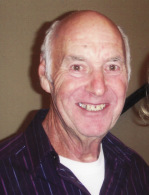 Martin "Leo" Bradburn was born at home on April 15, 1945 to Thomas "Webster" Bradburn and "Bertha" May Ridgell Bradburn in Hollywood, MD.

Leo was the devoted husband of Doris Anne Bradburn of Hollywood, MD.
He is survived by his siblings, Ann Hammett (Connie), of Charlotte Hall, MD and Pat Woods (Steve), of California, MD and is preceded in death by his sister, Betty Hoff, Minot, ND, and brother, Tommy Bradburn, California, MD.

Leo is survived by his daughter Karla Garrison (Willie) California, MD, Step-children, Ricky Burch, of Great Mills, MD, John Burch, of Hollywood, MD, Sherry Smith (Kenny), of Great Mills, MD, and Michael Burch (Sue) of California, MD.

Along with his grandchildren, Chris Tapponnier, Elizabeth Burch Mills, Eric Burch Mills, Amber Burch, Richard Burch, Selena Burch and Kenny Smith. Great -Grandchildren, Faith Burch and Javazio "Jay" Smith.
Leo was a "Hollywood Boy", to him there was no place in the world he could ever want to live that was any better than Hollywood, MD.

He was named after his Grandfathers, Martin Bradburn, and Leo Ridgell and was the youngest son of five children. He was a huge prankster and loved joking and kidding around. When he successfully pulled off a prank, he was delighted. He would laugh and have a huge grin on his face and say, "just kidding!" that boyish attitude would remain with him throughout his life and his wife, Doris Anne, of 38 years, lovingly, jokingly and fondly called him "my old boy." Leo had a nickname for his wife too; he always called her "Momma."

He graduated from Leonardtown High School in 1963, and worked at the Navy Exchange on base for a short while. Later he opened his own business in Hollywood, Leo's Auto Body. He enjoyed repairing and painting automobiles and excelled in his business. He worked in construction for a period of time and was a heavy equipment operator. Later, in 1989, he opened another business, Top Gun Auto Repair at his home in Hollywood. His grandson Chris, spent a lot of time with Leo at his home and at his shop and later worked with him as a mechanic repairing automobiles. Leo worked in his trade until a serious illness made that impossible for him to continue.

Leo enjoyed his hobbies…restoring old Farmall tractors. He was an avid reader of anything that had to do with Farmall tractors and old automobiles. He would lie down on the kitchen floor and read the local newspaper to his wife, in the evenings while she would be preparing dinner, catching up on the events of his beloved St. Mary's County. Not only was he a "Hollywood Boy", he was a "County Boy" too. He also loved playing with his old bulldozer whenever he got the opportunity.
Occasionally Leo would leave St. Mary's County for a vacation to the Outer Banks, NC Pennsylvania, or Myrtle Beach and for many years, he and his wife, would hop in the car every Saturday night and ride to the Tappahannock, Virginia to eat at his favorite restaurant, Lowery's.

Leo was not an extrovert, and most often did not go out of his way to strike up a conversation. If engaged in conversation he would readily prove to be an articulate and knowledgeable on many subjects and an interesting conversationalist. He enjoyed the company of others, but was often reserved and shy. Many events and holidays were celebrated at his home. He preferred, and was more comfortable with a small group of people, and was not found of large gatherings. Leo was a quiet and private man, a deep thinker, with a kind heart. If someone was in need he would be the first to lend a helping hand.

Leo was born at home and never spent time in a hospital for anything until he was 58 years old. He overcame open heart surgery, high blood pressure, diabetes, and stage 4 metastasized colon rectal cancer. Sadly, Alzheimer's and dementia were an illness he was unable to overcome. He was a man who was loyal to his friends, and loved all of his family.

Due to COVID- 19 a Memorial Service will be held at a later date. A Graveside Service will be held on Monday, January 18, 2021 at 10:45 AM in Charles Memorial Gardens Leonardtown, MD with Father Keith Wood officiating. Serving as pallbearers will be Ricky Burch, John Burch, Michael Burch, Chris Tapponier, Tommy Bridgett, and David Gardiner.

Contribution may be made to the Hollywood Vol. Rescue Squad P.O. Box 79 Hollywood, MD 20636, St. John's Catholic Church 43927 St. John's Road Hollywood, MD 20636 and St Peters Catholic Church 3320 St. Peters Drive Waldorf, MD 20601.