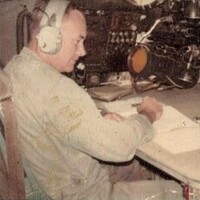 Lt. Col. (retired) Paul R. Julian, Jr., devoted husband of Nelma S. Julian crossed over the river to lay beneath the shade tree on January 11,2021. He was the loving father of Carol Julian Kross of New Bern, North Carolina, Paul Derrick Julian of Staunton, Virginia and Charles Bruce Julian of Leonardtown, Maryland. He was the proud grandfather and great grandfather of eleven grandchildren and twenty-two great grandchildren. Born in Portsmouth, Virginia on August 21, 1923 he was the son of Paul R. Julian, Sr and Maude Atkins Julian. He was preceded in death by his loving wife Nelma and brothers, Gerald Lee Julian of Norfolk, Virginia and Col.(retired) Robert Earl Julian of Goldsboro, North Carolina. He was a devoted Christian and enjoyed reading Scripture daily. He served, as a navigator, with honor in the United States Army Air Corp and later in the United States Air Force. Serving in World War II, Korea, Vietnam and the Cold War. He rose to the rank of Lt. Col. retiring in 1973. He loved his brothers in arms of the 459th Troop Carrier Squadron and had maintained many friendships through the years since retirement.

He was devoted to his "Little Nelma" whom he had been with since being high school sweethearts. Having traveled around the world with the Air Force he vowed to take Nelma to as many of the places he had traveled during his career. Trips to Bermuda, Spain, Germany, England, Ireland and other locations were "mission accomplished'. The two would often be seen at weddings and other social events dancing away to many songs. They were renowned for their "Jitter Bug" dancing. He was a leader and mentor to his children always teaching and coaching them in life skills and Southern honor and character. He was a "dog person" and enjoyed the company of his beagles on long walks and lap time. He enjoyed being on the water crabbing and fishing and working around the home.

At this time, due to the Health Restrictions, no arrangements have been made for a service. A Memorial Service will be held at a later date. Cards and notes of condolences may be sent to Charles Bruce Julian, 20413 Scarlet Tanager Way, Leonardtown, MD. 20650. In lieu of flowers, donations may be sent in Memory to St. Jude's Children's Hospital or the American Society for the Prevention of Cruelty to Animals (ASPCA).

Condolences to the family may be made at www.brinsfieldfuneral.com.

Arrangements by the Brinsfield Funeral Home, P.A.