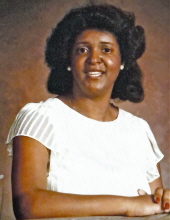 Cathy Roberta Taylor McKnight was born in Calvert County, Maryland on February 26, 1956 to the late Carrie Victoria and James William Taylor. She was the third youngest of six children.

Cathy was raised in Calvert County and educated in the Calvert County Public School System. She furthered her education by obtaining an Associates Degree in Business Administration from the Prince George's Community College and worked in Retail Management for many years. Cathy loved to play Sudoku (in ink!), joke on her siblings, attend church services, and eat seafood.

Cathy accepted Christ at an early age and was a long-time devoted member of Ward's Memorial United Methodist Church. During her tenure, Cathy participated in numerous ministries such as the Finance Committee, Vacation Bible School, and the choir. She also attended Zion Church in Glenarden, Maryland. Her faithfulness gave way to her kind-hearted nature and willingness to be there for her family whenever they needed her. This was truly demonstrated as she was a devoted caregiver for her mom during her years of convalescence with Alzheimer's.

Cathy was married to Allen McKnight on June 26, 1982 and through that union gave birth to her beloved daughter Kimberly. From the beginning, Cathy and Kimberly were inseparable and remained best friends until her passing. Cathy was a phenomenal mother, taking Kimberly to church even when she didn't want to go, modeling independence so Kimberly could make her own way, and always being available no matter what she needed.
She was always there to support and cheer on her daughter, even when Kimberly went away to college at the University of Richmond. Cathy was so excited when Kimberly got married to her husband, Bryant Dungey, Jr, in 2013, and even more ecstatic when she had her first grandchild, Bryant Dungey, III.

Cathy was an awesome grandmother and doted on her grandson, affectionately called Little Bryant. In his first year of life, she was his primary caregiver while Kimberly and Bryant worked. Cathy enjoyed every moment with her grandson and Little Bryant loved his, Mimi. He could get her to sing, dance, and give him way more candy than Kimberly ever got to eat as a toddler. Cathy was blessed to see her grandson turn two years old on December 18th and celebrated with him even while she was in the hospital.

As an aunt, Cathy always treated her nieces and nephews like one of her own children. She literally took care of all five of them (Angie, Sheldon, Renee, April, and Nekole) at some point in their early years. She was more than just an aunt; she was truly a friend and taught her nieces and nephews so many valuable things, as well as kept their silly secrets. Her nieces and nephews loved spending time with their Aunt Cathy. She even spent time caring for some of her great-nephews and great-niece. The generations will remember her.

As a sister, Cathy truly loved and supported her siblings: Ethelene (deceased), Delores, Frank, and Sterling. She was always willing to lend a hand whenever needed and never complained. She may have been one of the younger siblings, but you would never know it the way she held her own against them when they were growing up.
Cathy overcame many obstacles in her life and fought her way through each of them even to the end of her blessed life. No amount of years on Earth with her would have ever been enough.

Cathy is preceded in death by her mother and father, Mr. James and Carrie Taylor; sister, Ethelene; and brother, Steven. She leaves to cherish and to be blessed by her memories her loving and devoted daughter, Kimberly; one grandchild, Bryant III; son-in-law, Bryant Jr.; one sister, Delores; two brothers, Frank and Sterling; one sister-in-law, Beatrice; one brother-in-law, Levi; five nieces and nephews, Angie, Sheldon, Renee, April, and Nekole; six great nieces and nephews, Maxwell, Isabella, DeMarcus, Jacksen, Ryan, Kaelin; and a host of relatives and friends, including lifelong friends Velma Mason, Christine Booth Gross, Faye Jones Adams, Greta Holland, Sharon Gross, Deborah Jones Harris, Roberta Giles, Odessa Giles, Denise Jones, Pat Jones, and many others.

In lieu of flowers, please make donations in the memory of Cathy McKnight to the National Kidney Foundation and Alzheimer's Association.