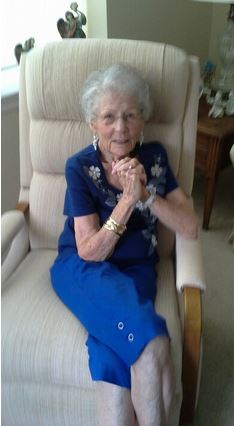 Mary Jane Colton, 98, of Silver Spring, Md. (formerly of Avenue, MD) passed away December 25, 2020, at the Casey House in Rockville, Md. with her loving family at her side.

Mary Jane was an amazing woman. She was the most wonderful mother, wife, sister and friend that anyone could have asked for. Anyone who met her knew they had a friend for life. Now she is at peace with her Lord and Savior. She was born on August 16, 1922 in Washington D.C. to the late Henry Decatur Reed and Mildred Elizabeth McCauley Reed. On April 2, 1942 she married her beloved husband Richard Etter Green of Johnstown, PA. Together they had two children and enjoyed life in Silver Spring, Md. She worked as an Executive Secretary at Perpetual Savings and Loan Association. She was a member of Christ Congregational Church. She enjoyed square dancing, loved cats (especially her Muffin), loved doing things for other people, and was very loving and generous to her family. From 1963 until his death in 1968 she spent her time caring for her husband, who had a severe case of MS. They celebrated 25 years of marriage.

On September 15, 1972, Mary Jane married her second husband, Thomas Hodges Colton, Sr. in Silver Spring, Md. Together they celebrated over 45 wonderful years of marriage before his passing in February 2018. In their time together, the Colton's enjoyed time in both Avenue, Md. and Naples, FL where they developed many friendships with people from all over the U.S. and Canada. They had wonderful experiences in their Airstream camper and later in their home in Crystal Lake. They loved watching tennis together (especially Roger) and she was known as the Hallmark Lady, sending cards to everyone she knew right up to the last days of her life. The Coltons attended Sacred Heart Catholic Church.

She is survived by her children: Richard Michael Green (Marjory Ann) of Olney, Md. and Priscilla Diane Strahan (William Theodore II) of Olney, Md.; five grandchildren: Mark Douglas Green (Rebecca), Jeffrey Peyton Green (Megan), Justin Timothy Green (Suzanne), Melissa Ann Quinn (Patrick) and Jason Michael Strahan (Stephanie); and 12 Great Grandchildren. Also included in her family are step-children Jeanine Peele of Fort Mill, SC, Thomas Colton of Centerville, Md., Kenneth Colton of Front Royal, VA, and John Colton (Karen) of Avenue, Md. In addition to her parents and late husbands, she is also preceded in death by her brothers, Richard Reed and James Reed.

A Graveside Service will be held on Tuesday, January 5, 2021 at 1:00 p.m. at Sacred Heart Catholic Church Cemetery in Bushwood, Md.

Memorial contributions may be made to Riderwood Benevolent Care Fund, 3140 Gracefield Road, Silver Spring, Md. 20904.

Condolences to the family may be made at www.brinsfieldfuneral.com.

Arrangements by the Brinsfield Funeral Home, P.A.