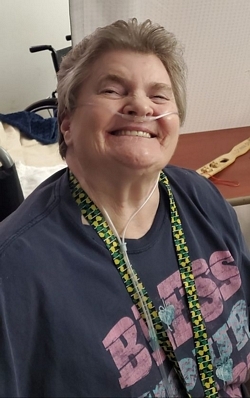 Donna Saul was born in Salem, New Jersey. She married Wilford Franklin Saul on October 8, 1965 at First Methodist Church in Salem, NJ, and they moved to Washington, DC and had two daughters. Donna Saul resided at Calvert Nursing Center in Prince Frederick, Md. for the past 6 years. She enjoyed spending time with her friends there and loved listening to music and playing bingo. She was loved by the staff, and that provides her family with comfort at this time.

She is survived by her daughter Robin Saul Justice (Wesley) and their daughter Melissa Justice Raley (Brandon) and her daughters Violet and Iris McGowan and son Justice Raley. Donna is also survived by her daughter Jennifer Saul Harriss (George) and her daughter Miranda Harriss and her son Clifton Wayne Ladd and his children Skylor, Jaxon, Alex, Camden, Blair and baby Collin. Donna Saul is also survived by her brother Wilbur Brown of Alloway, NJ and sister Nancy Brown of Hickory, PA.

Donations are welcome in lieu of flowers to Children's National Medical Center, who saved the life of her great grandson, Justice Raley.

https://giving.childrensnational.org/site/TR/FundraisingTR/Tribute?px=1717612&pg=personal&fr_id=1170

Checks can be mailed to:

Children's National Hospital Foundation
1 Inventa Place, 6th Floor West
Silver Spring, MD 20910

In the memo section of the check: In memory of Donna Saul

A celebration of life will be held in the Spring.