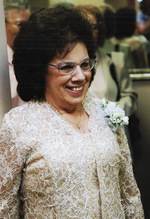 Dorothy Elizabeth Duckett,77, of Leonardtown, MD passed away on December 19, 2020 in Washington, DC. Born on August 5, 1943 she was the loving daughter of the late Catherine Elizabeth Crim and Calvin Samuel Crim and John Derkis Gatton. Dorothy was the loving wife of James David Duckett, whom she married on June 8, 1963 in Lexington Park Baptist Church Lexington Park, MD. Dorothy is survived by her daughter Michelle Lynn Bell (Jeff), three grandchildren; Michaela Bell, Shannon Duckett, and Savannah Bell-Bussler. Along with her brothers John Gatton (Peewee) of Glen burnie, MD, and James "Jimmy" Gatton of Florida. She was preceded in death by her son James Michael Duckett, and brother Richard (Calvert) Crim.

Dorothy enjoyed spending time with family, playing cards, and watching the Baltimore Orioles.

The family will receive friends on Monday, December 28, 2020 from 10:00 AM to 11:00 AM in the Mattingley-Gardiner Funeral Home Leonardtown, MD; where a Funeral Service will be held at 11:00 AM in the Funeral Home Chapel with Bishop William McClean officiating. Interment will follow in Charles Memorial Gardens Leonardtown, MD. Serving as pallbearers will be Jeff Bell, Robert (Bobby) Fross, James (Jimmy) Gatton, Mark Dill, Jackie Crim and Austin Ubalde.