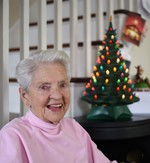 Eleanor Duke Fearns, born October 30, 1924, died December 18, 2020.

Eleanor was born in Leonardtown, Maryland and was preceded in death by her husband Frank W. Fearns Sr., her son Richard S. Fearns, her parents Lillian Drury Duke and Roland B. Duke. Her siblings Roland B. Duke Jr., Benedict Duke, Margaret Mary Duke Frazier, Walter Francis Duke, Betty Wise Mattingly Duke, George Councill Duke, and James Saunders Duke.

She is survived by her sister Mary Angela Duke Hicks, S.C.N., KY. Her children Frank (Susan) Fearns Jr., Linda Manekas, Sandra (Jay) Battle, Joseph (Cherrie) Fearns, and Mary Fearns.
Her grandchildren Kevin Fearns and Sarah Fearns of Baltimore, Maryland, Jennifer Schuler, Pittsburg, PA, Kay Manekas Cassidy of Astoria, New York, Demetrios Manekas of Howell, New Jersey, Jodi Campo of Hollywood, Maryland, and Valerie Hartman of Mt. Airy, Maryland, and her Great Grandchildren Drew, Brynn, and Alexandra Fearns of Baltimore, Maryland, Paulina Rae and Michael Manekas of New Jersey, Ava and Sabrina Campo of Hollywood, Maryland, and Nathan and Lucas Hartman of Mt. Airy, Maryland.

Eleanor was a teacher at Father Andrew White and St. John's School for many years.

She very much enjoyed music, playing piano and clarinet, painting and her travels to the West Coast, Blue Ridge Mountains, New York, and Ireland. Eleanor white water rafted at 70, and flew an airplane for the first time at 86. She loved her family and her hometown deeply. She will be most remembered for her wit, humor and creative/artistic abilities.

In lieu of flowers please help save lives by wearing a mask.