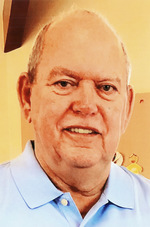 Swan Point Resident Kenneth (Kenny) Guy age 71, died December 17th, 2020 at Charles Regional Medical Center. Kenny graduated from Chopticon and entered the Army in 1968. Kenny worked in the Utilities Industry for most of his career. He worked for Pepco from 1973 – 2007. After retiring for an entire two weeks he joined Mirant/GenON from 2007 – 2015. His second retirement lasted six months when he decided staying at home was not his cup of tea, he joined Ulman & Assoc. from 2015 – 2018. Finally, retirement took when Kenny settled for the warmer winter sunshine in Florida.

Mr. Guy is survived by his wife Barbara June Goodwin-Guy of Swan Point /Naples, FL, his former wife Mary Elizabeth Guy of Leonardtown, 4 children Kendra Faye Royston of Naples, FL, Tabitha Shelly Gass (Mike St. Clair) of Compton, Steven Frederick Goodwin of Timonium and Kenneth Clyde Guy Jr. (Heather) of Mechanicsville, 6 grandchildren Jessica Lea Smith (Justin) of (Waxahachie, TX), Hope Alexandra Koch of Naples, FL, Taylor Marie Gass of Hollywood, Ronald Edward Gass Jr, of Medley's Neck, Hunter James Guy and Hannah Nicole Guy of Mechanicsville, 5 great grandchildren Patrick Ryan Cahill of Naples, FL, Carson Riley Tomlinson of Hollywood, Lilly Rae Gaines of Hollywood, Jocelyn Rose Smith and Jolene Lily Smith of Waxahachie, TX, 6 siblings Charles Jerome Guy (Cindy) of Avenue, Margaret Louise Stickell of Leonardtown, M. Jeanette Austin of Leonardtown, Thomas Ponton Guy (Esther) of Henderson, NC, Mary Susan Buono (Charlie) of Leonardtown, and Elizabeth Ann Walker (Danny) of Leonardtown and numerous nieces and nephews.

Mr. Guy is preceded in death by his parents Joseph Clyde Guy and Dorothy Dillard Guy, nee Jones and 3 siblings Joseph Calvin Guy (Eleanor), Dorothy Marie Irwin (William), and Walter Lawrence Guy (Glenda).
Mr. Guy was born August 5th 1949, in Leonardtown to Joseph Clyde Guy and Dorothy Dillard Guy, nee Jones. Kenny had many talents and could do anything he set his mind to. He enjoyed sharing his talents with others. Most people who knew Kenny had an immediate connection, what you saw is what you got. One of his passions was riding motorcycles and road trips with his brother Charlie and his brother in law Charles to places like Sturgis and across country. He was also proud of the fact that while working he was able to earn a degree from Bismarck State College in Electric Power Technology. Kenny was an avid storyteller and enjoyed speaking. One of his favorite childhood stories was pretending to be Davy Crockett in the corn fields with his coonskin hat and his gun where he chased imaginary rabbits, squirrels and bears. He recalled his brother Charlie being Jim Bowie, equipped with his bowie knife, and their many feats of bravery. He never tired of reminding his sister Louise of putting ants in her pants when she was young. Kenny served in the United States Army from September 4th 1968 - September 9th 1971. He served a tour in the Republic of Vietnam from March 8th 1969 – March 6th 1970 in An Loc Province. There he served primarily at Quan Loi, also known as LZ Andy. He recounted the most difficult part of his tour in Vietnam was the many that could never return home but he did. His greatest pride and joy in life was family especially his children, grandchildren and greatgrandchildren. Kenny will be waiting patiently for us to join him in the clouds.

Due to Covid-19 a service will be held at a later date.

Contributions may be made to the Disabled American Veterans Chapter 26 St. Mary's County, Maryland P.O. Box 496 Patuxent River, MD 20670.