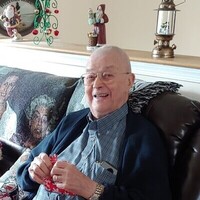 James Harvey Hilbert, 87, of Mechanicsville, MD passed away peacefully on December 19, 2020 at his home surrounded by his loving family. Jim was one of four (4) children born to his late parents, Harry Hilbert and Evelyn (Hiskey) Hilbert in Emmaus, PA.

Jim was a proud member of the United States Air Force. His pride for his country served him well his enlistment. He was honorably discharged in 1972.

He married his beloved wife, Antoinetta Hilbert in 1955, together they started a family of their own and spent over fifty-three (53) wonderful years of marriage. Jim lost the love of his life in July, 2008. He has spent these past years, talking about and missing her. His children are taking solace in the fact that they've reunited in heaven.

Jim was a man of multifaceted talents, he enjoyed writing and weaving elaborate tales. He fed his imagination also with books. He was always ready to play a game of pool or shuffle a deck of cards knowing luck and skill were on his side. He was a golfer and bowler. He loved to spend time with his friends on the greens or at the bowling alley.

He was a fan of target shooting with an eagle eye. Above all Jim, loved his family. His children, grandchildren and great-grandchildren brought him great joy. We could spend hours watching the kids play on the floor and listen to their laughter as they played silly games.

A great man has left his earthly home, but has been reunited in God's glorious heaven during the most joyous time of the year. His legacy will be of strength, kindness and humanity. If you knew him you were blessed and hold your memories close until you meet again.

Jim is survived by his three (3) sons, Andrea "Andy" Hilbert of Mechanicsville, MD, and Clint Hilbert of Mebane, NC; three (3) grandchildren and two (2) great-grandchildren and one sister, Dorothy Frassetto of FL and brother, Joseph Hilbert of Schnecksville, PA. He was preceded in death by his parents, wife and son, Antonio Hilbert and sister, Mary Ann Bradshaw.

The family will receive friends for Jim's life celebration on Tuesday, December 29, 2020 from 10:00 a.m. to 12:00 p.m. at the Brinsfield Funeral Home & Crematory, P.A, 30195 Three Notch Road, Charlotte Hall, MD 20622. A funeral service will take place at 12:00 p.m. on Tuesday and officiated by Father Michael Tietjen from Immaculate Conception Church. Interment will follow immediately at Evergreen Memorial Gardens, Lexington Park, MD.

Condolences to the family may be made at www.brinsfieldfuneral.com.

Arrangements by the Brinsfield Funeral Home & Crematory.