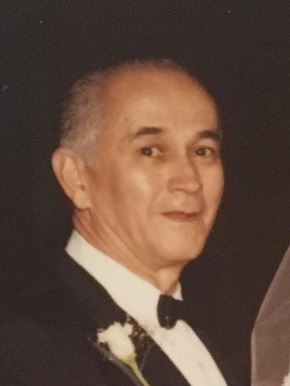 Leon A. Ruiz, 94, of Waldorf, MD passed away peacefully at the Sagepoint Nursing

home in La Plata, MD on December 16, 2020 in the company of his daughter.

Leon was born in Colombia, South America on June 5, 1926 He was the

oldest child with 9 siblings and raised in the Catholic faith.



He was married to the love of his life Nelly, celebrating 58 years of marriage. Nelly

predeceased him in December 2011. He is survived by three loving sons Antonio,

Ernesto, and Alberto; and three loving daughters Sonia, Maria Teresa, and Sofia. He

was blessed with 16 grandchildren and 16 great-grandchildren. Leon and his wife

were immigrants who were very proud to become US citizens and imparted that

pride to their children and grandchildren who all reside in the US living the American

dream contributing to and serving our great country.



Leon worked for many years as an electrician and industrial electric motor mechanic

at pharmaceutical and industrial bottling plants and later in the local industry in New

York until his retirement in 1990.



Leon's pride and joy was his wife and family, and he enjoyed life to the fullest dedicated to fixing things electrical or mechanical around his home and those of his children. As he was raised in humble beginnings, he was always fascinated by electricity and motors which is what he learned as a trade technician. As a result of his influence and his dedication to having his children obtain an education, all of them are professionals with five of them obtaining college degrees in engineering and business, including one with a Ph.D. degree in Electrical Engineering.



Leon was a loving family man with a generous, and loving heart. He loved to help

people who needed his help fixing anything electrical or mechanical. He enjoyed

Colombian food from home cooked meals or from the many Colombian restaurants

in New York city. His favorite dish was the "Bandeja Paisa," a hearty dish usually

consumed by Colombian peasants after a day of hard work in the coffee and

banana plantations. His children remember him watching science documentaries

and reading science magazines, acquiring knowledge was his passion. When he

was in elementary school he read the whole book collection in the school library.

He instilled a love of reading in all his children and grandchildren. All his

grandchildren remember seeing their "abuelito" with a flashlight and giving them out

as gifts. He was fascinated by them, especially when the LED light bulbs and

flashlights came on the market. After his retirement, he dedicated his life to his wife

and helping his children with the next generation of grandchildren.



The family will collect fond memories and expressions of sympathy which may be

shared at arehartechols.com. The family plans to conduct a celebration of life and

remembrance when the pandemic passes later in 2021.