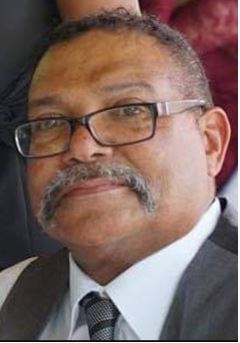 William Alexander Bond, Sr., affectionately known as "Willie," was born on February 20, 1957 in Washington, DC to Frances V. Bond and the late John Henry Bond, Jr. Willie was the oldest, and loved the designation of being the "first of nine." Willie entered into eternal rest on December 11, 2020 in Leonardtown, MD.

Willie attended St. Mary's County Public Schools, graduating from Chopticon High School, Morganza, MD, in 1975. Willie enlisted in the U.S. Army in June 1975. After he separated from active duty, Willie became employed with Blue Cross Blue Shield in Washington, DC; he retired after 35 years of employment in Computer Operations.

Willie enjoyed reading, doing crossword puzzles, cooking, fishing, sports and relating to people of all walks of life. Willie was recognized within the Southern Maryland Communities for his days on the baseball and softball fields. Willie never met a stranger because many became his friends, and he was able to relate to anyone. Willie sincerely loved his family, and especially the family trips and gatherings. He willingly participated wherever needed. One of Willie's biggest joys was when he became a grandfather, first to his prince, Cortezz in 2008, and then to his princess, Alyani in 2019. Willie touched many lives. He will be missed forever.

Prior to relocating to St. Mary's County, Willie was a faithful member of the St. John the Evangelist Catholic Church, Clinton, MD. Willie volunteered many hours at the Catholic schools his sons attended, and within the athletic programs Will and Jeremy participated in. Willie was a member of the St. John the Evangelist Catholic Church Knights of Columbus Council #11171.

Those who remain to cherish his memory include his wife, Sharon; mother Frances V. Bond; children: Tierra N. Bond, Temple Hills, MD; William A. Bond, Clinton, MD; and, Jeremy M. Bond, Clinton, MD; siblings: Marie McCoy (Alton), Lexington Park, MD; Wanda Myers (Tony), Leonardtown, MD; Philip Bond, Sr. (Michele), Bowie, MD; Ruby Bond, Upper Marlboro, MD; Frances Hodge (Billy), Waldorf, MD; and, Louis Bond (Tiffani), LaPlata, MD; Godmother, Mary Arthurlee Burroughs; Godson Ryan Countiss; Mother-in-law, Mamie Mason; In-laws: Shelia (Roland) Barnes, M. Jerome Mason, Jennifer (Terry) Thompson and Cindy Bond; former wife Gwendolyn Bond; beloved grandchildren, Cortezz Cheatham and Aylani Bond; and, special friend Jeremiah Cutchember. He also leaves many nieces, nephews, friends and family members.

In addition to his father, Willie was preceded in death by his sister Victoria Bond and his brother John H. Bond III.

Funeral services will be held at Brinsfield Funeral Home, 22955 Hollywood Road, Leonardtown, MD 2020 on Monday, December 21, 2020. Viewing will begin promptly at 9:30 am with funeral services immediately starting at 11:00am. Interment to follow at Charles Memorial Gardens, Leonardtown, MD, 26325 Point Lookout Road, Leonardtown, MD 20650.

Condolences to the family may be made at www.brinsfieldfuneral.com.

The family invites you to click the link below for a live stream video: (You will see William's service listed at about 10:45 a.m.)

William Bond Livestream

In lieu of flowers, please consider a donation to St. Franics Xavier Church, 21370 Newtowne Neck Road, Leonardtown, MD 20650.

Arrangements by Brinsfield Funeral Home, P.A.