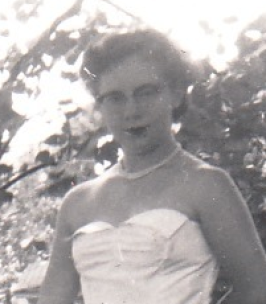 Rose Victoria (Clements) Just, beloved mother of Philip Just (Kim), Jeanette Barkwell (Ricky), Joanne Skalby (Daniel) and grandmother to Jason Hall, James Skalby (Shannon), Dustin Carter (Shyan), and David Just, joined the angels in the Kingdom of Heaven on December 6, 2020.

We will remember Rose as someone who was warm, loving, independent, strong, spunky and lively. An adorable, diminutive woman, she embodied the definition of a kind heart.

She is loved and remembered by her co-workers and friends from many years working for Navy activities at Patuxent River, MD, Jamesway, St. Mary's Hospital, St. Mary's College, St. Mary's Nursing Home, and C&P Telephone Company. She was always quick to share her knowledge and offer a helping hand to her co-workers, who will remember her quick mind, wit, work ethic, and capabilities in any job she undertook.

Rose doted on her kids and her grandsons. She was also a devoted "dog mom".

An avid crafter and accomplished seamstress, Rose's family and friends were gifted with many cherished hand-crafted Christmas ornaments, dolls, and baby blankets ("Grandma Blankie's"). What you may not know, is that she also made many children's Christmas and birthday wishes come true by creating countless hand-made Cabbage Patch babies and Pound Puppies, during that time in the 80's when it was virtually impossible to buy them in stores. This was before the internet and Etsy!

Rose also spent many years volunteering as a member of the American Legion Auxiliary, Post 221 in Avenue, MD, and many will remember her volunteering as Mrs. Claus at Christmastime.

Rose's sweet disposition and distinctive laugh would make anyone's day. She was always there for her family and friends. She was much loved.

We will miss you, rest in Paradise, Mom, Grandma, Rose, "Rosie".

Rose was born July 12, 1938 to Philip Oscar Clements and Victoria Elizabeth (Wathen) Clements. After her preschool years in Millersville, Maryland, Rose lived most of her life in the town she loved, Leonardtown, Maryland. She is predeceased by her brother Gerald Clements and sister Esther Conlon.

A Celebration of Life will be scheduled at a later time once safety allows our friends and loved ones to gather and celebrate this wonderful lady.