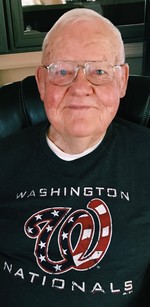 William Clarence Watts, 92, from Breton Bay, in Leonardtown, died Saturday, December 05, 2020, at St. Mary's Hospital. Born July 29, 1928, on his Mother's birthday, in Andover, MA. He was the son of the late Merrill C. and Isabella Leuchars Watts. He was raised and attended school in Andover.

He enlisted in the U.S. Army Air Force immediately after graduating from Punchard High School in 1946. He went to basic training at SAACC in San Antonio, TX, then was trained in Boca Raton, FL, as a Radar Mechanic/Operator for Ground Controlled Approach Radar systems. He was stationed at Lajes AFB, in the Azores Islands, a mid-Atlantic refueling stop, during the Berlin Airlift. He was honorably discharged with the rank of S/Sgt in 1949. He was awarded the Good Conduct Medal, the American Theater Ribbon and World War II Victory Medal.

After discharge from the Air Force, he resumed school attending the Huntington School for Boys in Boston, MA. Afterwards he attended the Capitol Radio Engineering Institute in Washington, D.C. where he was active in sports and twice elected President of the Student Council. After graduation from CREI, he was employed as an electronic technician for four years at Bendix Radio, in Towson, MD. During his time with Bendix he assisted in the fabrication of the AN/WSC-5(V), the next generation of GCA radars for the U.S. Navy. He first came to St. Mary's County as part of the Bendix team that delivered the WSC-5 to Patuxent River for first article testing. During his three month visit he fell in love with the county and he met his future wife, Nancy Reid, a Calvert County resident, who was a nursing student at Union Memorial Hospital, in Baltimore, MD. On August 28, 1954, he married the love of his life, Nancy, in Solomons, MD. Shortly after he moved to St. Mary's County to participate in the second class of the Patuxent Plan, at Patuxent River Naval Air Station.

In the Patuxent Plan, he earned a Bachelor of Science, Electrical Engineering (BSEE) degree at the University of Maryland, graduating in 1961. He continued his education and earned a Masters of Engineering Administration (MEA) degree from George Washington University in 1972, awarded in Constitution Hall. He worked as an electronic engineer at NESEA, St. Inigoes, as a Branch Head in the Radar Branch for eleven years. With development of the new communications methods, he transferred to the Satellite Communications Branch as a branch head for sixteen years. He was head of the team that sent the first official naval message over the LES-6 satellite in September 1968, which inaugurated the U.S. Navy UHF satellite communication programs. He traveled to many ship and shore sites throughout the world in support of satellite communications and received many commendations for completing tasks ahead of schedule and below budget estimates. He retired from NESEA, July 29, 1983, at the age of 55 with thirty years of government service.

After leaving the government he was employed by Tracor in St. Mary's County. He worked as the Satellite Communication Department Director until 1990 when he retired. After Tracor he was employed by Advanced Communications Systems, Inc. of Fairfax, VA, as a systems analyst in their Crystal City office. He remained employed until September 30, 1996, when he and his wife both permanently retired on the same day.

In his younger days, the he and his family were active in St. Mary's County. They took in several social services foster children to live with them in their home. He was a member of the original Bell Motor Company slow pitch softball team, the first county slow pitch champions and also played ball for Budweiser. He was an umpire for both baseball and softball for a period of time. He was a cub master for Pack 420 and Troop Committeeman for Troop 420, BSA. He coached the St. Clement's Shore Little League baseball team. He was one of the seven original members of the Breton Bay Country Club, having joined in establishing the club in 1966, with the construction of a pool and tennis courts and later in 1970 the construction of the golf course and the Breton Bay Golf and Country Club. He became an avid golfer in his later years spending many weekends on the course with dear friends and one of the oldest members.

In addition to his wife of 66 wonderful years, he is survived by his children: William Merrill (Addie) Watts of Leonardtown; Martha Dawn Watts of San Rafael, CA; Paul Reid (Marie) Watts of Leonardtown; Priscilla Lynn (Mike) Labanowski of Mechanicsville; eight grandchildren, five great grandchildren and a sister Merrillyn Watts. He was preceded in death by his son, David Clarence Watts and his sister, Ethel Emrick of Dixon, CA.

In lieu of flowers, contributions may be made to the Leonardtown Volunteer Rescue Squad or the Leonardtown Volunteer Fire Department.

All Funeral Services will be held at a late date.