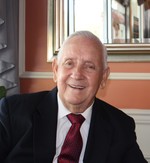 James "Bubby" F. Spalding, 86 of Leonardtown passed on December 10, 2020 at the Med Star Hospital in Leonardtown, MD.

James F. Spalding better known as "Bubby" was born December 24, 1933. He, his two brothers, and one sister grew up with their parents in Leonardtown, Maryland. He enjoyed childhood and teen years playing sports in school and spending time on the water, boating, swimming and crabbing.

In 1952, he graduated from Margaret Brent High School, joined the Army and served 3 years; 26 months of his service in Africa.

After the Army, he began his career as a technician, a Federal Government job at the Naval Air Station, Patuxent River, Maryland. During his career, he was a member and served as President of the Southern Maryland Pioneers, a non-profit organization supporting children with disabilities.

In October 1958, Bubby married Elizabeth Ann Cusic, better known as "Betty Ann." They lived in Leonardtown until 1964 when Bubby and his brother, Eddie, built a house in Compton, Maryland, the home where he and Betty Ann raised their three children, Bobby, Wanda, and Dale.

In 1991, Bubby retired from Lucent Telephone Company. He began a new chapter and his volunteer work nearly became a full-time job!

Being a volunteer was not new to Bubby as over the years, he supported Father Andrew White where his children attended school, assisting with sporting events, calling out bingo and building the annual "spook house." He belonged to the Little League Baseball Association and managed little league teams. He participated in Christmas in April and a long-time volunteer for the annual Leonardtown Carnival. A member of St. Francis Zavier Church maintenance committee; many years as a lector and singing in the choir. He supported the Church's annual Christmas Bizarre from planning for the event too making and cooking the stuffed hams!

Bubby had a passion for people and making every moment fun, the life of the party. He loves to sing and dance. Even in Africa, he brought joy, gathering fellow service members to sing and play music.
His love for sports led to years of playing baseball, softball, and golf. His greatest moment in softball was in 1969 when he received the Budweiser Sportsmanship Award. Another significant moment in sports was when he played golf with Bob Hope at the local Breton Bay Golf Course.

In the 1970's Bubby was a member of the original Clements Cuties, a non-profit organization that raised money for families in need within the community. The Cuties, a group of men that would dress like women and play softball for charity. No surprise, Bubby went by the name of "Bubbles" and looked great in a dress and high heels!

Bubby, an excellent public speaker, served for years as the Master of Ceremonies for Softball Banquets, Birthdays, and Anniversaries. During special events, frequently called upon to say grace before the meal. He was always prepared with a well thought out written prayer that he carried in his suit pocket.

Bubby, a man of strong faith, best friend and love to Betty Ann, proud father of his three children and grandfather of five; Tyler, Bailey, Madelyn, Emma, and Carson. Yet a new chapter in his life as a resident of the Chesapeake Shores Nursing Center, he continued to spread love and joy with his fellow residents and the Staff. Making sure his roommate gets a haircut; visiting others, offering a mint or snack, or simply providing comfort with a soft pat on the hand or shoulder.

All Funeral Services will be private.

In lieu of flowers donations to the Leonardtown Rescue Squad or St. Francis Xavier Church, Compton, MD.