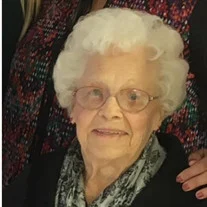 Ellen M Byle, 99 of Charlotte Hall MD passed away peacefully on December 7, 2020 with her family by her side. She was born August 14, 1921 in Plains, PA and had 12 siblings.

She is preceded in death by her husband of 54 years Raymond Gerald Byle. They raised their family in Linglestown, PA until moving to Suitland, MD. After retiring they settled in Waldorf, MD where Ellen loved gardening in her yard. Later she moved to North Beach, MD to a senior apartment where she enjoyed the North Beach Community Center, her many friends, walking on the boardwalk and doing word searches. She lived with her daughter and family for several years before going to Charlotte Hall Veterans Home until her passing.

Ellen is survived by her brother Charles "Lindy" White of Syracuse NY. She is the mother of Robert Byle of Powder Spring, Ga, Ronald Byle of Pasadena, MD, Randell Byle of Ocean View, DE and Margaret Knott of Sunderland, MD. Grandchildren: Trevor, Stephanie, Phillip, Michael, Brian, Joshua Byle, William Knott Jr., and Ashley Gallagher. Great Grandchildren: Morgan, Mackenzie, Megan, Ryan, Eden, Travis, Margaret, Nodia & Kaymon.

The family will receive friends at Lee Funeral Home Calvert, 8200 Jennifer Lane, Owings, MD 20736 on Saturday, December 12, 2020 from 11:00 AM to 1:00 PM where a Funeral Service will be held at 1:00 PM in the Funeral Home Chapel. Interment will be held at Maryland Veterans Cemetery, 11301 Crain Highway, Cheltenham, MD 20623 on Tuesday, December 22, 2020 at 10:30 AM.

In lieu of flowers please donate to Friendship Methodist Church, Friendship, MD.
The family is asking that we stay socially distant and will not be offended by you staying at home and leaving a memory on the website.