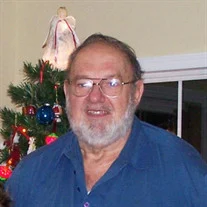 Odell Norman Bondurant, age 81, of Prince Frederick, MD, passed away peacefully on Sunday, December 6, 2020, with his loving wife by his side.

He was survived by his wife Debbie L. [Perry] Bondurant of 31 years, daughter Wendy McComber (Bob), stepdaughters - Tina Sleeper (Chris), Brenda Galvin (Mike), Beverly Harrington (Jason), stepson - Bill Snoddy, Jr., grandchildren - Odell Bondurant, III (Shawna), Katherine, Jacob, Lindsey, Ashley McComber, step-grandchildren - Brandon (Michelle), Collin, Blake, Alisha, Megan, Justin, Jason, Jr., Joshua, great-grandchildren - Odell IV, Olivia, Siblings, James (Marlene), Lela (Earl), George, Lloyd, Frank, Thelma, sister-in-law - Ann, and multiple niece and nephews.

He was preceded in death by his parents William and Lela Bondurant, son Odell Bondurant, Jr., granddaughter Paula Bondurant, siblings Joseph, William, Lorretta, and Ellen.

Odell was born January 6, 1939 in Hendersonville, NC. During his life he lived in North Carolina, Washington, DC, Maryland, and Northern Virginia. Odell held many jobs throughout his life, he was a grocery clerk, a Metro bus driver, a supervisor for his brother's inventory services and a dispatcher for a moving company. While these jobs might have paid the bills, his "real" job was entering sweepstakes and playing the lotto. He would spend hours scanning his monthly sweepstakes newsletters to see what new contest he could enter and how many times he could submit an entry. He had high hopes that one day he would strike it rich from one of them, so he could get a big house with many rooms for all his Saint Bernard dogs that he wanted to care for.

Odell loved to take weekend trips with his wife Debbie, bother James "JC" and sister-in-law Marlene to find the best food around no matter how far they had to travel, but he would never pass up an all you can eat crab feast and a Diet Pepsi.

The family would like to thank the members of Prince Frederick Volunteer Fire Department and Rescue Squad, the nurses and doctors at Calvert Health Medical Center for the skilled and compassionate care.

Family invites friends to Lee Funeral Home Calvert, 8200 Jennifer Lane, Owings, MD 20736, on Tuesday, December 15 from 10 am until start of Funeral Services at 12 pm. Interment will follow at Southern Memorial Gardens, 10155 Ward Road, Dunkirk, MD 20754.

In lieu of flowers the family ask that a donation be made in Odell's memory to either the Prince Frederick Volunteer Rescue Squad, PO Box 346, Prince Frederick, MD 20678 or the American Heart Association, www.heart.org.


NEW GUIDELINES FOR ATTENDING VISITATION / SERVICES.
- 50 to 75 people max at any given time in Funeral Home.
- Limit visitation to 15 minutes in visitation room to allow for others to express their condolences.
- Funeral Services in Chapel limited to 70 people with four (4) people per pew.
- Masks and six foot social distancing still applies.