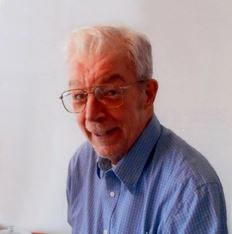 MM1 Kenneth Evan Atkins, USN (Ret.), 79, of California, MD passed away on December 7, 2020 at Charlotte Hall Veterans Home in Charlotte Hall, MD.

He was born on January 12, 1941 in Warren, PA to the late Norman and Leola Ritch Atkins.

In 1958, Ken enlisted in the U.S. Navy and proudly served his country for over 21 dedicated years of service until his retirement on June 15, 1979 as a Machinists Mate First Class. During his service he travelled extensively and earned many citations and medals. After retiring from the US Navy he worked at DynCorp as a government contractor for many years supporting the Navy.

On December 30, 1974, he married his loving wife, Vivian "Celie" Atkins in Leonardtown, MD. Together they celebrated over 45 wonderful years of marriage. During this time he also owned and operated two tractor trailers, hauling goods across the country; something he truly loved. He was reliable, patriotic, and had a strong work ethic. His hobbies included fishing, hunting and camping in their RV along the East Coast with the "Blue Crab Fun Bunch." He was handy and although he would rig things in an unconventional way, they always worked. He loved to grill everything, but steaks were his specialty. Other hobbies included listening to the scanner to stay on top of local current events, listening to old country music, talking on his CB radio, and enjoying some of his favorite TV shows including, Smokey and the Bandit, Westerns, Clint Eastwood movies, and the Dukes of Hazard. Celie was his greatest love and he also enjoyed spending time with all of his family.

In addition to his beloved wife, he is also survived by his children: Kenneth Scott Atkins (Cindy) of Warren, PA, Richard L. Atkins of Jamestown, NY, Debbie Synder (Tony) of Tallahassee, FL, Dale Landau (Debbie) of Mechanicsville, MD, Guy Landau (Terri) of Albertsville, AL, Lisa Frederick (Steve) of California, MD, and Laura Carroll of Catonsville, MD; his sister, Darla Thurberg; 12 grandchildren, 4 great-grandchildren; and extended family and friends. In addition to his parents, he is also preceded in death by his sister, Sharon (Sherrie) Sparling.

Family will receive friends on Thursday, December 10, 2020 from 11:00 a.m. to 1:00 p.m., with a Funeral Service celebrated by Reverend Joe Orlando at 1:00 p.m., at Brinsfield Funeral Home, 22955 Hollywood Road, Leonardtown, MD 20650. Interment will follow at Evergreen Memorial Gardens, 22020 Chancellors Run Road, Great Mills, MD 20634.

Serving as pallbearers will be: Logan Reeder, Zachary Landau, Josh Atkins, Brian Long , Zach Waller, and David Smith.

Memorial contributions may be made to the American Cancer Association, 405 Williams Court, Suite 120, Baltimore, MD 21220.

Condolences to the family may be made at www.brinsfieldfuneral.com.

Arrangements by the Brinsfield Funeral Home, P.A.