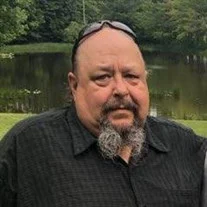 Paul M. "Pop Pop" Walters, 58, of Waldorf passed away November 19, 2020, at Johns Hopkins Bayview Medical Center. Born November 3, 1962 in Clinton, Maryland, he was the son of the late H. Ray Walters, Jr. and the late Betty F. Walters.

Paul was a carpenter and master craftsman who took great pride in his work. He loved spending time with family (especially his grandbabies), watching baseball, vacationing in Florida and Ocean City, hunting, and making his community a better place.
Paul was preceded in death by his parents and his loving companion Elvis. He is survived by his partner of 35 years, Lynn; brothers Jerry (Darlene), Ray Walters III (Susan), Jimmy Bumpus (Angie), and Dan (Lois); his sister Jeannie Walters Moore; sons Paul "PJ", Jr. and Justin (Steven); daughters Jessica and Sarah Conley; his six grandchildren Luca, Isla, Isaiah, Mason, Ailani Adams, and Laila Mason; and his riding buddy, Bella.

Family and friends will be received at Grace Gospel Worship Center 5819 Kirby Rd., Clinton, MD on Wednesday, November 25, 2020 from 10 - 11:30 am. A service will immediately follow from 11:30 am - 12:30 pm followed by interment at Trinity Memorial Gardens 3221 Mattawoman Beantown Rd., Waldorf, MD.