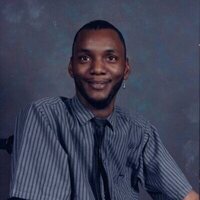 Joseph Eric Kelly passed away on November 20, 2020 at Washington Hospital Center. Eric was born on July 3, 1961 to Elizabeth V. Kelly and Joseph W. Kelly in Hollywood MD.

Eric is survived by his mother Elizabeth (Liz), his sisters Yvonne, Norma, Lynne and Jacqueline (Jackie), nieces Shayna and Anna, nephews Wayne and Kenyan, great nephew Jeremiah. Eric is also survived by one brother-in-law Francis Bankins and a friend that was like a brother to him Francis Maddox.

Eric attended St. John's Elementary School in Hollywood and was the tallest 8th grader in his class at 6'6". He attended St. Mary's Ryken High School and in the summer of his freshman year, he attended a basketball camp at Georgetown University.

On February 12, 1977, he was in a serious car accident that left him paralyzed. He spent six

months in the University of Maryland Hospital but came back home in time to finish school and graduate on time. He was accepted to the University of California Berkeley in 1979. He graduated from Berkeley in 1983 but worked and lived there until 1986. He and Yvonne drove back to Maryland with Shayna riding along too.

His first job in Maryland was with J.F. Taylor and then he worked for CareFirst before starting his career at NAVAIR. His first position was in the EEO office and his last was a Cost Analyst.

He was a big fan of the Georgetown Hoyas, the California Golden Bears and the Raiders (Oakland, Los Angeles or Las Vegas). He had the ability to fix any kind of technical problem the family had. He loved Reggae music and sitting in the sun. He was an inspiration to many by the way he lived his life. He stayed positive through all of the trials and tribulations. He never complained. In addition to his immediate family, he is also survived by a special aunt, Delores Kelley as well as many relatives and friends.

A Mass of Christian Burial will be celebrated by Revered Raymond Schmidt on Monday, November 30, 2020 at 11:00 a.m. at St. Johns Francis Regis Catholic Church, 43950 St. John's Road, Hollywood, MD 20636. Interment will follow at the church cemetery.

In lieu of flowers, memorial contributions may be made to the National Spinal Cord Injury Association, 12034 Queens Boulevard, #320, Kew Gardens, NY 11415.

Condolences to the family may be made at www.brinsfieldfuneral.com.

Arrangements by the Brinsfield Funeral Home, P.A.