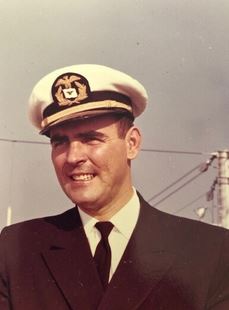 Mitchell Whiting Kalloch passed away on Wednesday, November 18, 2020 at St. Mary's Hospital in Leonardtown, Maryland. Mitchell was born in Riverhead, New York to William Ralph Kalloch and Kathryn Todd Commelin Kalloch on August 8, 1930. Upon high school graduation, Mitchell enlisted in the United States Marine Corps in 1948, where he served our country throughout the Pacific and finally in the Korean War arriving in the third wave on Inchon Landing, and fighting in the battles of Heartbreak Ridge, Chosin Reservoir, and Imjin River. After eighteen months of fighting on the front lines, Mitchell returned home to New York with the Bronze Star and Purple Heart for his service to his country. Mitchell relocated to Castine, Maine where he attended and graduated from Maine Maritime Academy with his Bachelor's Degree in Nautical Sciences. During this time, Mitchell married the love of his life, Margaret Mary Campbell, at St. Joan of Arc Catholic Church in Jackson Heights, New York on August 10, 1955. Mitchell served as a navigating officer with the United States Merchant Marines, making frequent transatlantic crossings with United States Lines on the S.S. America and the S.S. United States. Dignitaries looking for the quiet escape from social duties, including then President Dwight D. Eisenhower, knew they could find night watchman, Third Officer Mitchell Kalloch for a quiet cup of coffee and easy conversation on the bridge. Resigning from United States Lines in 1962, Mitchell accepted an offer from the United States Naval Oceanographic Office as a Navigation Specialist in Suitland, Maryland where he and Margaret Mary and their two daughters, Margaret Therese and Linda Christine relocated. Eight years later while Mitchell was still employed with the Naval Oceanographic Office, he and his family relocated to St. Mary's County, Maryland where the family made their home permanent. Enjoying for the first time a home with a little acreage, Mitchell and Margaret Mary also raised and showed Bullmastiffs locally and along the mid-Atlantic coast. Retiring as an Executive Director in 1993, Mitchell and Margaret Mary made their home permanent in Mechanicsville, Maryland where they continued to be devout and active Catholic parishioners at St. Joseph's Church in Morganza, Maryland.

Mitchell was an avid reader and enjoyed tracing his and Margaret Mary's family genealogy during his early retirement years. Anyone who knew Mitchell embraced his gift of an easy demeanor and casual conversation that made all feel at home with him. His family, friendships, and day-to-day acquaintances were very precious to him. Mitchell's priority above all others and things was his loving care for the love of his life, Margaret Mary.

Mitchell is preceded in death by his parents William Ralph Kalloch and Kathryn Todd Commelin Kalloch Preston. In addition to his wife of sixty-five years, Margaret Mary, Mitchell is also survived by his two daughters, Margaret Kalloch Craddock-Dexter (Charles) of Leonardtown, MD, and Linda Christine Kalloch of Silver Spring, MD; and two grandsons, Mitchell Craddock (Bradley) of Aurora, CO and Nicholas Craddock of Baltimore, MD.

Mass of Christian Burial will be held at St. Joseph's Church, on December 2, 2020 at 11:00 a.m. at 29119 Point Lookout Road, Morganza, Maryland. Interment will follow at Queen of Peace Cemetery, 38888 Doctor Johnson Road, Mechanicsville, MD 20659.

Memorial contributions may be made to St. Joseph's Catholic Church, P.O. Box 175, Morganza, MD 20660.

Condolences to the family may be made at www.brinsfieldfuneral.com.

Arrangements by the Brinsfield Funeral Home, P.A.