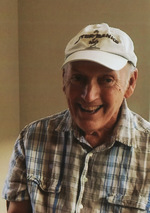 Warren James Guy Jr, 72 of Leonardtown, MD passed away on November 18, 2020 at his home, surrounded by his loving family.
He was born on May 27, 1948 in Leonardtown MD, to the late Warren James Guy and Helen Frances Wheeler.

Warren is survived by his loving wife of 50 years, Sandra Mary, whom he married on September 26, 1970 at Immaculate Conception Church, Mechanicsville MD. Together they raised three sons: Steven Guy Sr. (Tina "Lee Lee") of Leonardtown, MD, Brian Guy (Stephanie) of Hollywood, MD and Warren "Jamie" Guy III of Leonardtown, MD; 8 grandchildren: Steven Jr., Nathan, Charlie, Justin, Tyler, Troy, Emma and Faith; and his siblings: Kenneth Guy of Leonardtown MD, Barbara Dotson (Wayne) of Mechanicsville, MD, Ella Tennyson (Wise) Scotland, MD, Ernest Guy (Charlotte) of Leonardtown, MD, Robert "Mike" Guy (Betty) of Bushwood, MD and brother-in-law, Jerome Hammett, of Compton, MD.

In addition to his parents, he was proceeded in death by his sisters, Joyce Ann Hammett & Mary Paula Thompson.

Warren was a lifetime resident of St. Mary's County, member of St. Aloysius Gonzaga Catholic Church and enjoyed nothing more than spending time with his family. He loved the outdoors and spent his life growing tobacco on the family farm. Hunting with his brothers and sons, playing games, sitting around the table eating hard crabs and growing a large garden to share the bounty of the harvest with his family and friends were his favorite pastimes however, nothing made him more proud than to be called Pop Pop. He was often found sitting under the ole' apple tree cheering the grandkids on as they played ball in the backyard.

The family will receive friends on Tuesday, November 24, 2020 from 9:00am –10:00am at St. Aloysius Gonzaga Catholic Church in Leonardtown, MD with a Mass of Christian Burial at 10:00am with Rev. David Beaubien officiating. Interment will follow at Sacred Heart Cemetery Bushwood, MD. Pallbearers will be Steven Guy Jr., Nathan Guy, Ernest "Francis" Guy Jr., Matthew Hammett, Christopher Guy, and David Sydnor.

Memorial contributions may be made to St. Aloysius Gonzaga Catholic Church P.O. Box 310, Leonardtown, MD 20650.