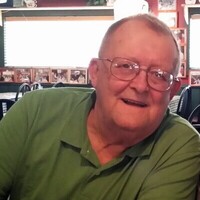 GySgt John Thomas Schmitt, Jr (Ret.) USMC, 82, of Mechanicsville, MD passed away on November 17, 2020.

John was born on January 23, 1938 in Patterson, NJ to the late John T. Schmitt, Sr. and Elizabeth Kinney Schmitt.

John enlisted into the U.S. Marine Corps on February 15 1955, then retired on August 31, 1976 when he transferred into the Fleet Marine Corps Reserve. He was awarded the Good Conduct Medal and the Meritorious Mast award. He served for over 21 years with an Honorable Service Record when he retired. John continued Federal Service working for the Department of Public Works at Naval Support Facility Indian Head, where he retired in 1995. He was married to his lovely wife Pearl Grigsby Schmitt until her passing in November 2001. In his spare time he learned how to make ceramics and relearned his love of model airplanes. He enjoyed camping with his kids in the Summer and going fishing. He enjoyed to travel such as his trips to the Bahamas, Alaska, and his most recent cruise to Nova Scotia. He loved to cook and bake sharing his dishes to include his home made wine with friends.

John is survived by his children John T. Schmitt, III (Sook Ie) of Clarkesville, TN and his daughter Elaine Theresa Engel (Robert) of Hampton, NJ, his sisters Elizabeth Schmitt of Warwick, NY; Rita McGrath (Richard) of Warwick, NY; Veronica Gerum (Charles) of Easton, PA and his brother Paul Schmitt (Nancy) of UT; and his grandchildren Matthew Thomas Engel (Amanda) of Fort Polk, LA; Emily Marie Stiff (Matthew) of Flemington, NJ; John Henry Schmitt (Lindsay) of Charleston, SC and Elizabeth Kim Schmitt of Clarkesville, TN and his great grandchildren Alexander Stiff, Natalie Stiff, Charles Engel and James Engel. He is preceded in death by his wife Pearl Grigsby Schmitt, his parents and his sister Mary Waddell.

In lieu of flowers please send donations to Mechanicsville Volunteer Rescue Squad P.O. Box 15, Mechanicsville, MD 20659 or Mechanicsville Volunteer Fire Department P.O. Box 37, Mechanicsville, MD 20659.

Condolences to the family may be made at www.brinsfieldfuneral.com.

Arrangements by the Brinsfield Funeral Home, P.A.