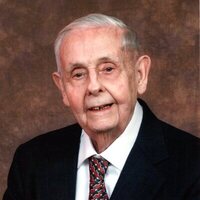 George Edward Widmayer, 97, of Mechanicsville, MD passed away on November 18, 2020 at University of Maryland Charles Regional Medical Center in La Plata, MD.

Born on December 3, 1922 in Washington, DC he was the son of the late Charles F. Widmayer and Irma E. Widmayer (Baynes).

George married the love of his life Alma Agnes Widmayer (Oliver) on October 12, 1946 and they spent 23 wonderful years of marriage together until her passing in 1969. They welcomed 3 beautiful children.

George worked as an accountant for the United States Post Office for 37 years until his retirement in 1979. He was a member of Immaculate Conception Catholic Church in Mechanicsville and frequently enjoyed attending services there with his family. George loved watching sports, especially football, baseball and golf. On those crisp fall Sundays, he was always watching his favorite team, the Washington Redskins. In the spring, he could be found cheering on the Washington Nationals as they scored run after run on the baseball diamond. George was a man full of wanderlust. He loved to travel, visit and explore new places and definitely knew his way around a map. A family man with a heart of gold, George's favorite thing was to be surrounded by his loved ones, whom he cherished. A day spent with his children, grandchildren and great grandchildren was a perfect day in George's world and his family will cherish the memories they have of times spent with him.

George is survived by his son, Charles Edward Widmayer (Terrie) of Mechanicsville, MD, his daughter, Marie Alma Widmayer (Long time boyfriend Paul Walker) of Mechanicsville, MD, as well as 5 grandchildren and 6 great grandchildren.

In addition to his parents and beloved wife, George is preceded in death by his daughter, Beverly Ann Widmayer and his brothers: Charles F. Widmayer, Jr., Herbert E. Widmayer and Raymond B. Widmayer.

Family will receive friends for a Life Celebration visitation on Saturday, November 28, 2020 from 9:00 am to 10:00 am and a Mass of Christian Burial will be celebrated at 10:00 am at Immaculate Conception Catholic Church, 28297 Old Village Road, Mechanicsville, MD 20659. Interment will follow immediately at Resurrection Cemetery in Clinton, MD.

In lieu of flowers, donations can be sent in George's name to the American Cancer Society or Immaculate Conception Church in Mechanicsville.

Condolences to the family may be made at www.brinsfieldfuneral.com.

Arrangements by the Brinsfield Funeral Home & Crematory, P.A.