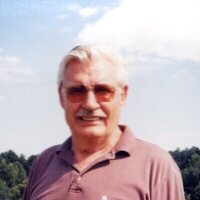 John T. Hemming of Indialantic, FL formally or Bryantown, MD, passed away on October 09, 2020.

John was born in Bryantown, MD on November 8, 1931, to Henry and Clara Hemming. He was the youngest of 9 children.

John served in the U.S. Navy for 4 years. He moved to Florida to work for Harris Corp. as an electronic technician. He married Wai-Ming Julie Hemming (Chu) on February 18, 1977 and they settled in Indialantic, FL.

John is preceded in death by wife Wai-Ming of 40 years, his father, mother, and siblings. He is survived by his many nieces, nephews, great- nieces, and great-nephews.

Family will receive friends from 9:00 am – 10:00 am for a memorial gathering followed by a Mass celebrated at 10:00 am for both John and Wai-Ming at St. Mary's Bryantown Catholic Church, 13715 Notre Dame Place, Bryantown, MD 20617. Interment will follow in the church cemetery.

Condolences to the family may be made at www.brinsfieldfuneral.com.

Arrangements by the Brinsfield Funeral Home & Crematory, P.A.