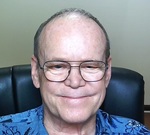 Terrence (Terry) Munsinger passed away peacefully at his home on November 11, 2020. Terry was born in San Bernardino, California January 23, 1952. He was preceded in death by his parents Douglas Owen Munsinger and Glory Patricia Diely. He is survived by his wife of 28 years, Laura Munsinger and sons Joe Munsinger and Bryna of Portland, Oregon, Greg Railey of Dayton, Ohio, Lawrence Railey and Jennifer and grandchildren Jacob and Juliet of Apollo Beach, Florida.

He worked for the Federal Government for 30 years, the last 12 years at Patuxent River, Maryland as a Program Manager. He was so proud and honored to work for the Government.

He especially enjoyed working on his 1968 Barracuda and spending time with his beagles; he was nicknamed the "beagle whisperer". There will be a private cremation. Donations may be made to Beagle Rescue of Southern Maryland.