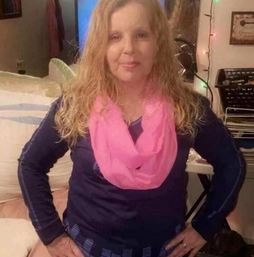 Tina Marie Brown, 50, of Prince Frederick, Maryland passed away on November 7, 2020 in Prince Frederick, Maryland. Tina was born on November 10, 1969 in Prince Frederick and although she didn't go far from home in her short lifetime, Tina lived her life freely, and with a zest. She never met a stranger, and cared for everyone, especially children. She was known for playing with all the children in the neighborhood.

Tina is survived by her husband, David Hammaker, daughter Kayla Fraley and her husband Joshua, and 2 sons: Joshua and Kevin Billingsley. Grandmother of Chase, Julia, and Elsie Fraley. Tina is also survived by her mother, Wanda Mays; sisters Sharon Brown, Cathy Bean, and Denise Stephens, and her mother in law, Nora Quesenberry.

The family will receive friends on Thursday November 12, 2020 from 1:30- 2 PM, at the Rausch Funeral Home, 4405 Broomes Island Road, Port Republic, Maryland where a memorial service will follow at 2 PM. Interment is private.