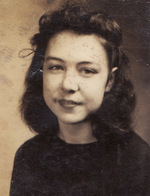 Margaret Theresa Tippett, (Nee Jarboe) 92, of Leonardtown, MD, left this earth on November 10, 2020. Born on April 11, 1928 in Leonardtown, MD, she was the beloved daughter of Ignatius Jackson and Mary Catherine (Connelly) Jarboe. A lifelong resident of Leonardtown, she attended The Old Leonardtown Elementary School (where the rescue squad is now), and Margaret Brent High School. She was the wife of the late Elmer Francis Tippett of Medley's Neck, who died in 1964. As members of the Catholic Faith, they were married at The Church of the Assumption of the Blessed Virgin Mary in Washington, D.C. on September 11, 1948. Mrs. Tippett was employed as an operator for C and P Telephone Company and later worked the presses at The North End Print Shop in Leonardtown, MD for J. Frank Guy and became his companion for over 25 years before he died in 1981.

Among her hobbies, Margaret enjoyed playing the organ and watching local baseball teams involving the Old Washington Senators, then the Baltimore Orioles, and later the Washington Nationals.
She enjoyed cooking and like many countians could do stuffed ham, crab cakes, and soft crab sandwiches. Her roots in the county go back to the 1600s.

Besides her parents, Margaret was preceded in death by siblings, Ann E. Kurz, Virginia H., John L., James A., and Joseph D. Jarboe. Also, grandson, Charles F. Tippett, stepdaughters, Dorothy Griffin and June Tippett, and half-brother, Elmer A. Jarboe. She is survived by Rose Marie "Boots" Stublarec (Raymond) of Benedict, MD, Francis Neale "Frankie" Tippett of Leonardtown, MD, and Lisa Townsend of Olney, MD. There are 5 grandchildren, Melanie Hooper (Gary) of Benedict, MD, Amanda Moritz (Keith) of Leonardtown, MD, Amber Collins (Jason) of Mechanicsville, MD, Aimee Tippett of Flint, MI, and Mark Townsend of Olney, MD. There are also 11 great-grandchildren. Margaret has 1 surviving sister, Mary L. "Peggy" Stone of Waldorf, MD and many nieces and nephews.

The family will receive friends on Wednesday, November 18, 2020 from 9:00 AM to 10:00 AM in the Mattingley-Gardiner Funeral Home Leonardtown, MD with a Funeral Service at 10:00 AM in the Funeral Home Chapel with Deacon Ammon Ripple officiating. Interment will follow at St. Aloysius Catholic Cemetery in Leonardtown, MD. Serving as pallbearers will be John L. Jarboe, Jr., Jason Collins, Gary Hooper, Zachary Hooper, David Simmons, and Bobby Kerig.

Contributions may be made to the Leonardtown Volunteer Rescue Squad, P.O. Box 299, Leonardtown, MD 20650 or any other charity of your choice.